Login
Log in if you have an account
Register
By creating an account with our store, you will be able to move through the checkout process faster, store multiple addresses, view and track your orders in your account, and more.
Create an account
The Stone House: An autumn weekend
12 Oct 2018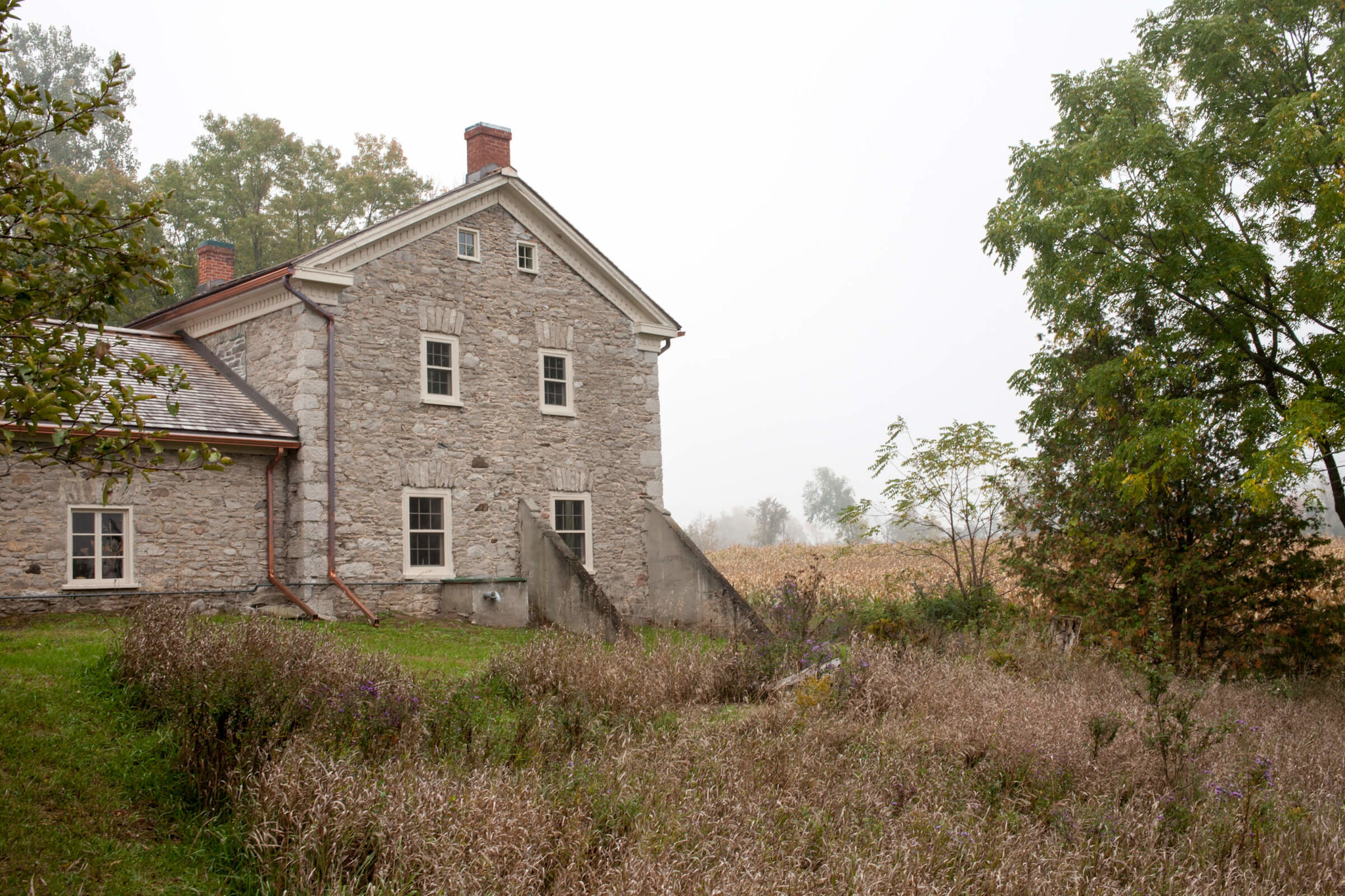 It's been awhile since we've been to the Stone House. In part because it's still a little under constuction, but also because of the usual September busyness of back to school and an increase in customers at the shop who have returned from their summer activities. 
The kids had a four day weekend over Thanksgiving so we decided we needed to go for a visit. Thankfully Peter Tan from Studio Junction accommodated us, despite his (very tidy) construction zone. 
It was heaven. A perfect sort of moody, foggy, drizzly but not too wet weekend. Everyone was so calm and happy, and surprisingly busy with the little things.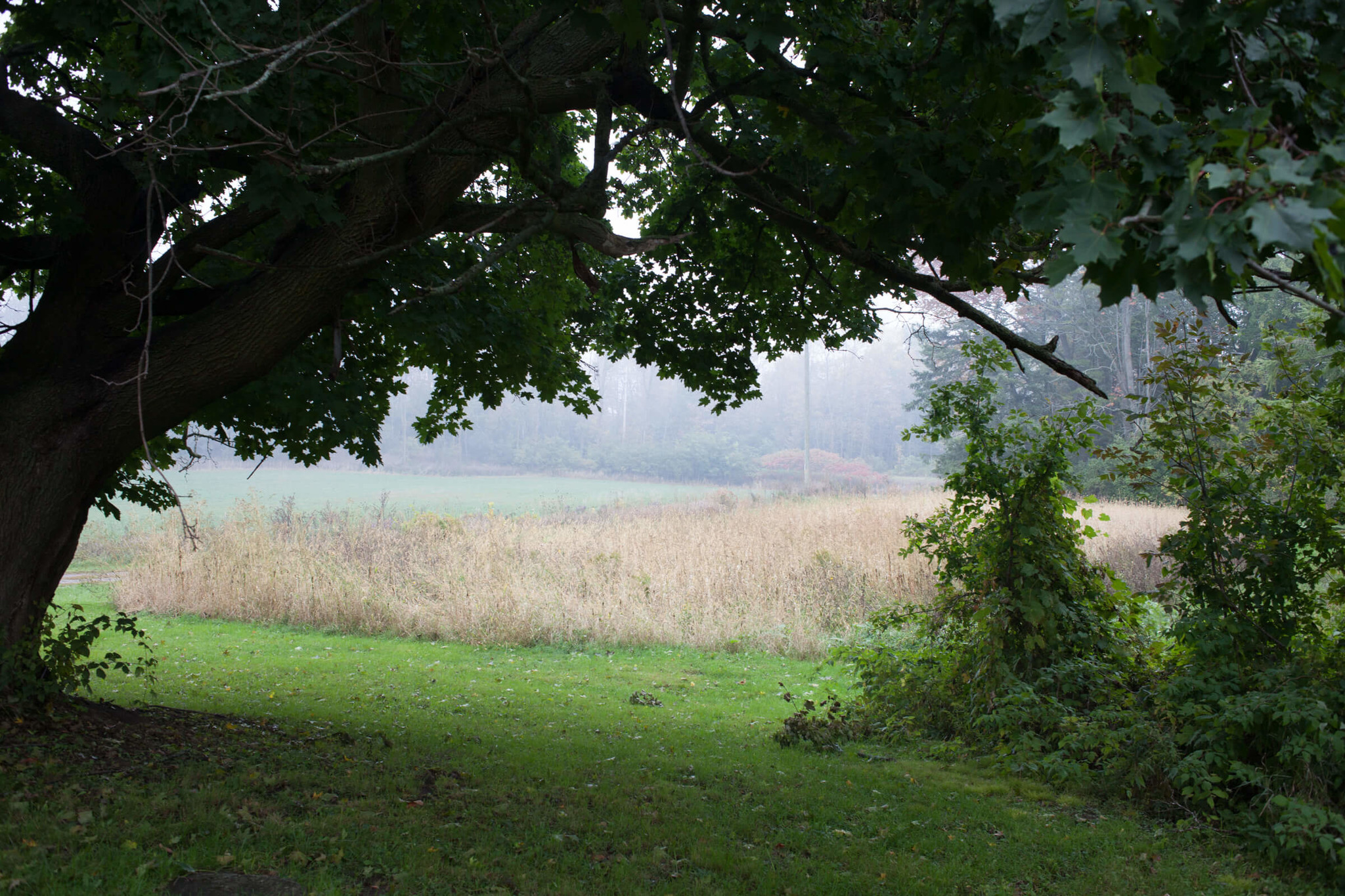 I spent quite a bit of time enamoured with the landscape. The colours were just changing so it was mostly golds and greens, with splashes of red and purple. The property becomes so lush over summer it's interesting to see everything wither. 
This front area is the only larger open field area that we have. Last year the middle patch was so natural and pretty. Our farmer friend razed it last fall and we tried to till and plant wildflowers but unfortunately something else took hold, a variety of very strong grasses/wheat? It didn't have the same appeal so we are going to cut it back again and work a smaller section. I guess it'd be good to have a larger space to play too.
I imagine using this open space for archery. It's the one thing from my day camp days that I loved doing and never ever got to do it enough. If anyone has any tips on real kid friendly sets or places to buy, let us know via email. I started looking while in Belleville and am not sure the hunting shops would sell leisure/kid friendly archery equipment.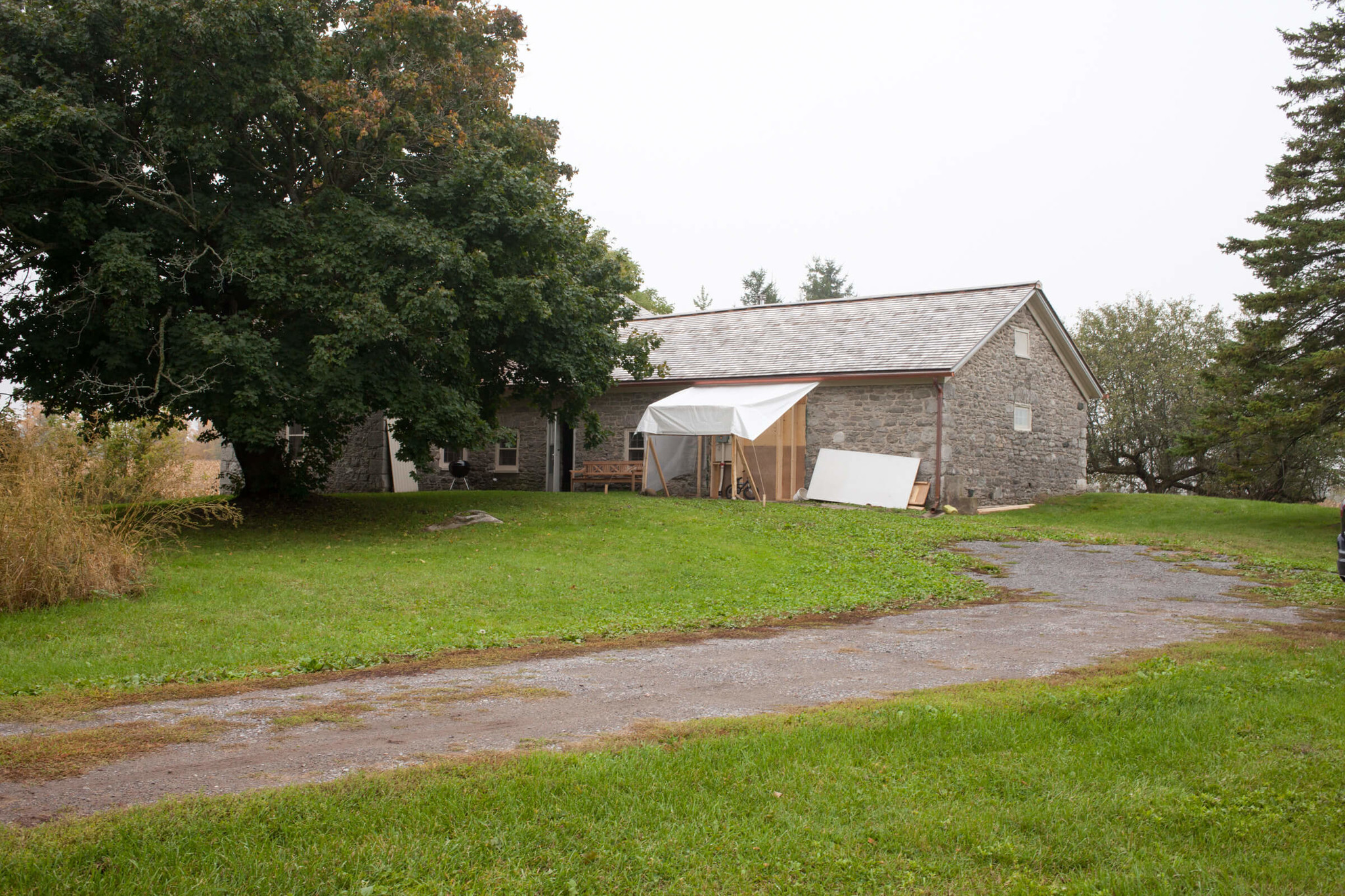 Under construction, Peter and his crew have been working hard on the drive through doors - they will become a solid wood entryway and on the other side a large picture window. The concrete pads have been poured, hence the protective tent.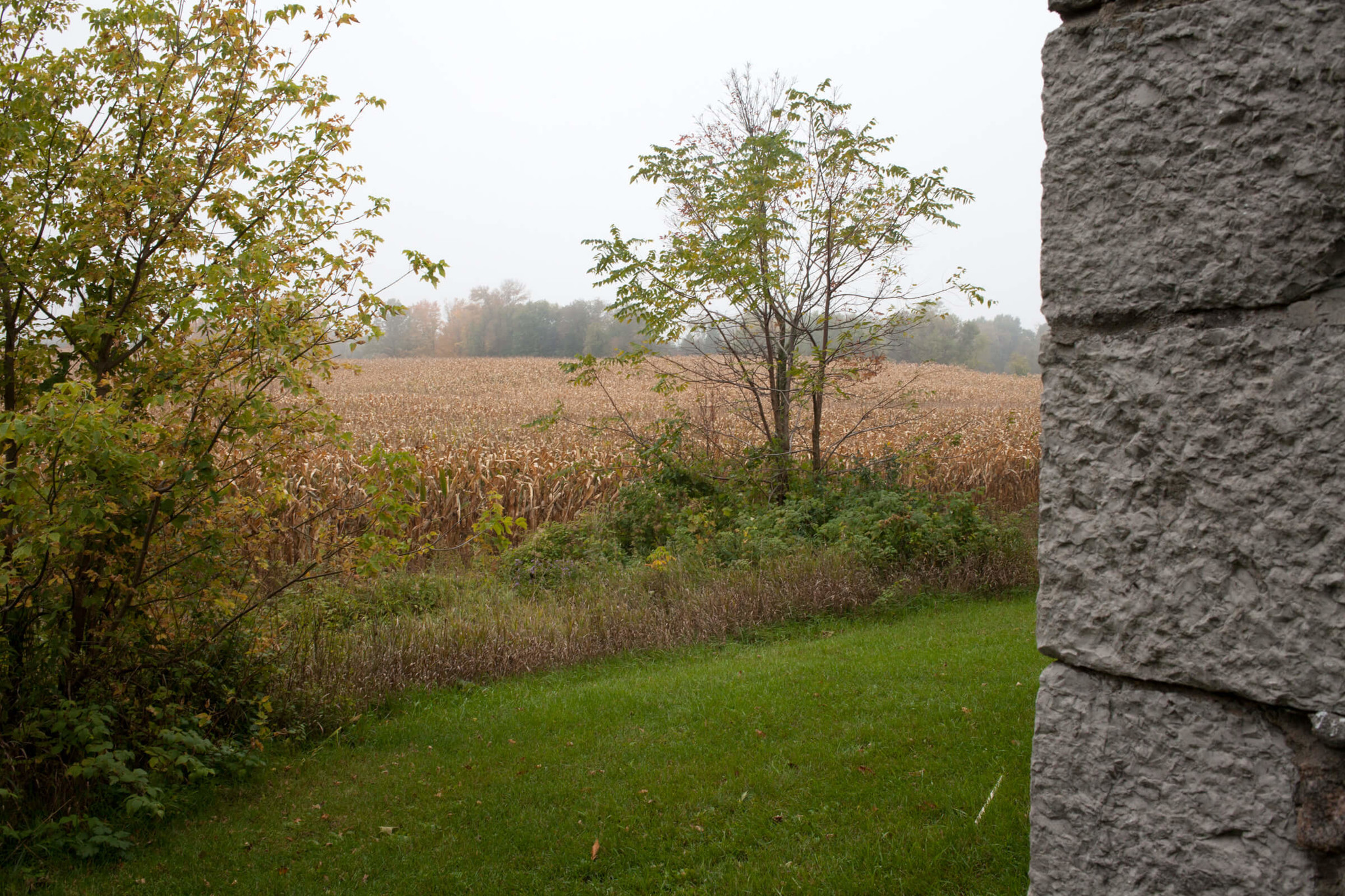 Glad that the cornfields are still hanging around. They were working across the street on Friday...but seem to get to these fields last which I appreciate.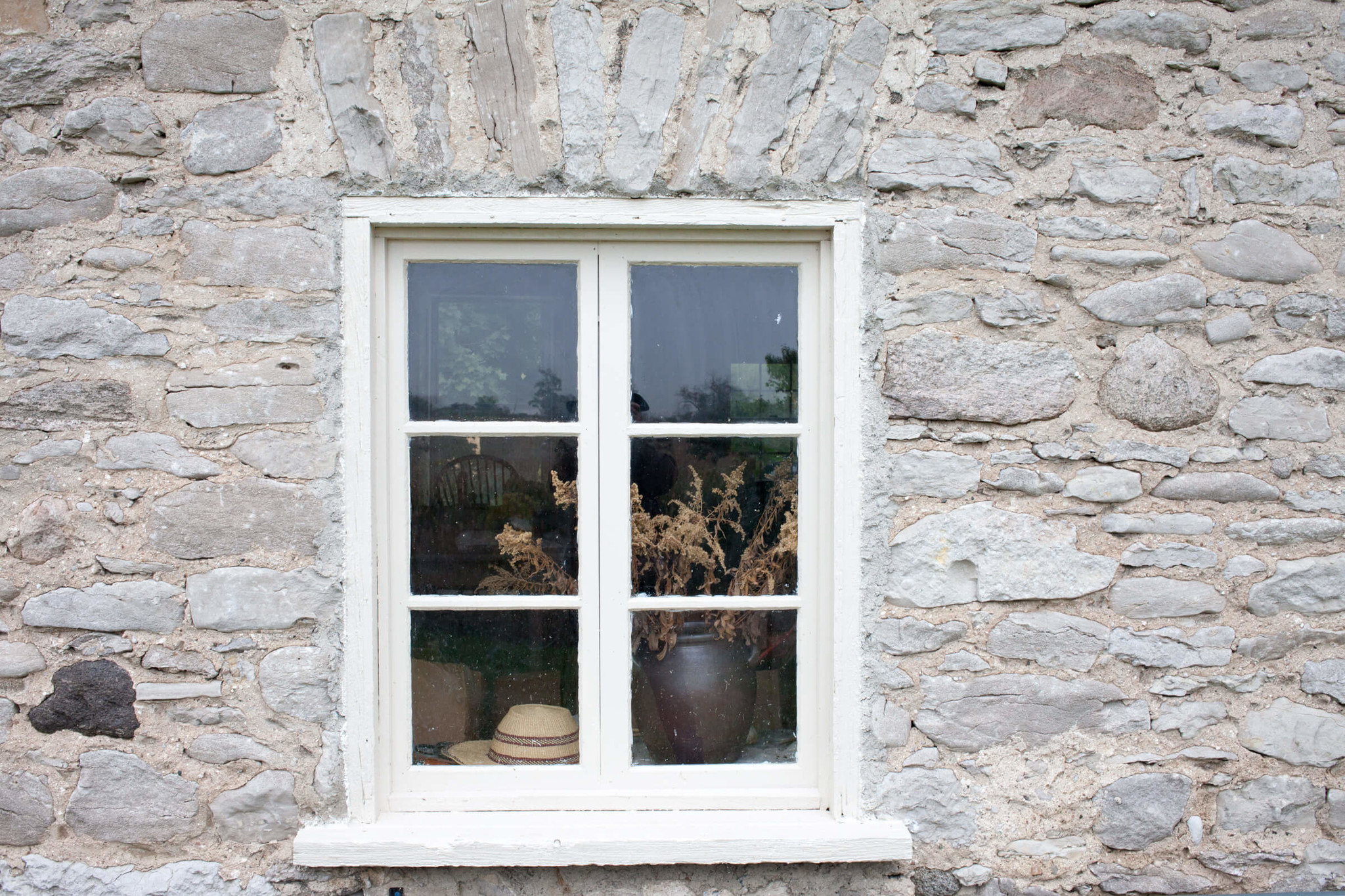 This is the only window we didn't switch out. I am sure we will come to regret that as the wind begins to whistle through. I am enjoying this little view into the kitchen.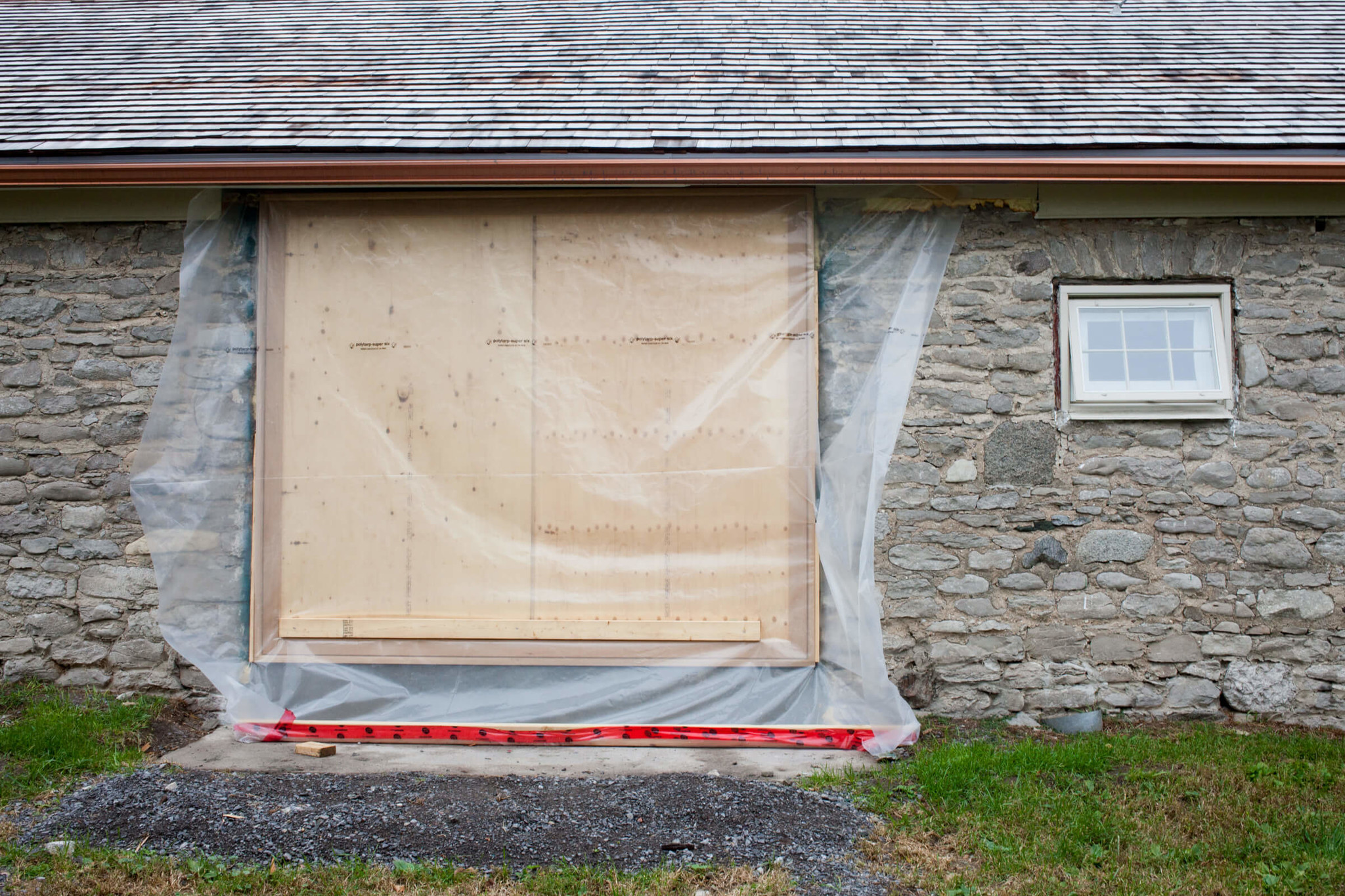 We are just waiting on the glass panel for this massive picture window that will look out onto our tiny apple orchard. They found a perfectly good concrete pad already there, so to make things easier, the window will sit atop a concrete ledge but the bonus is we will have a little bench on the inside, perfect for contemplation.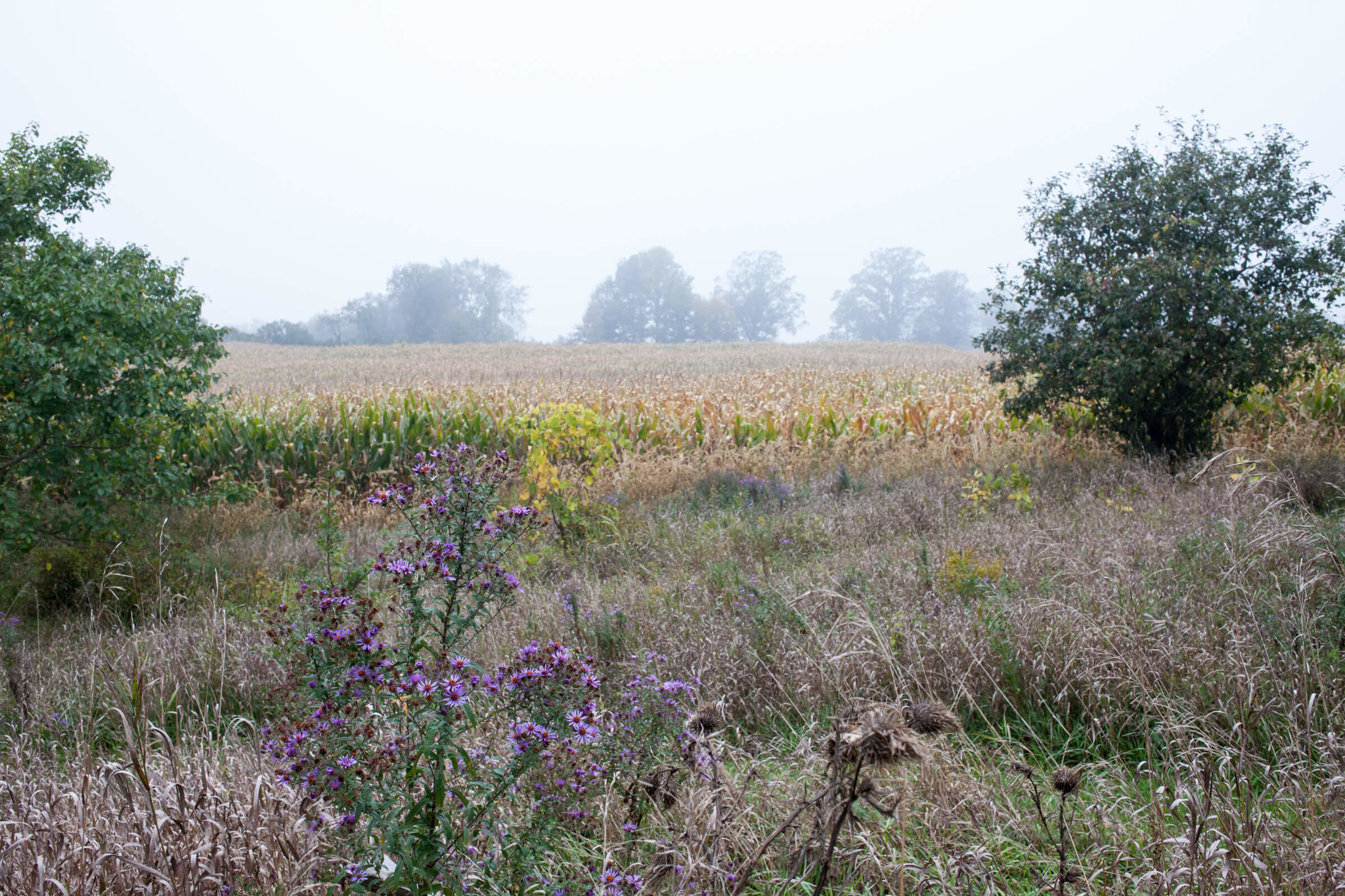 More textures, colour and fog.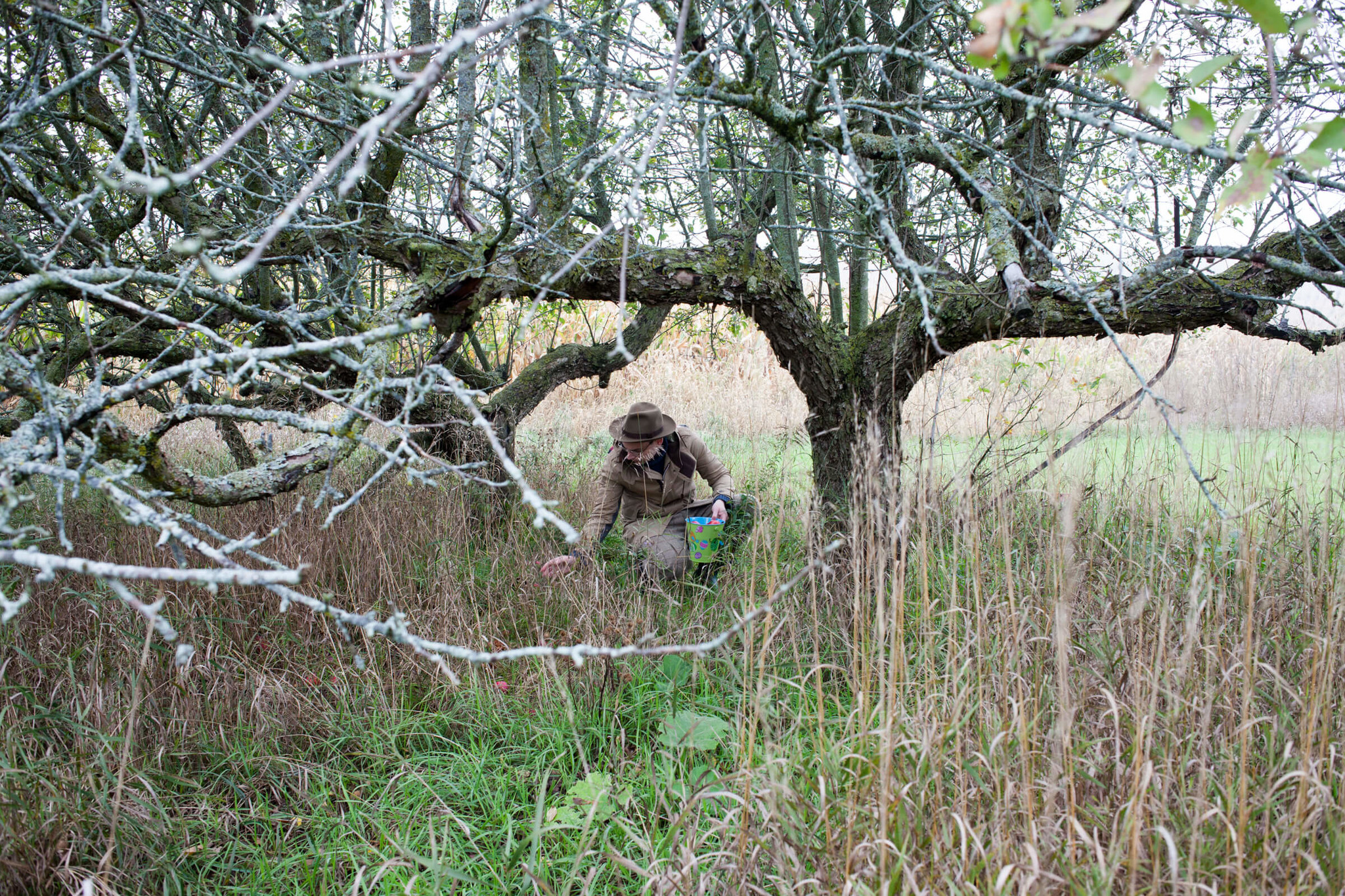 I found John under the only producing apple tree. Unfortunately all the apples had fallen but he was salvaging what he could.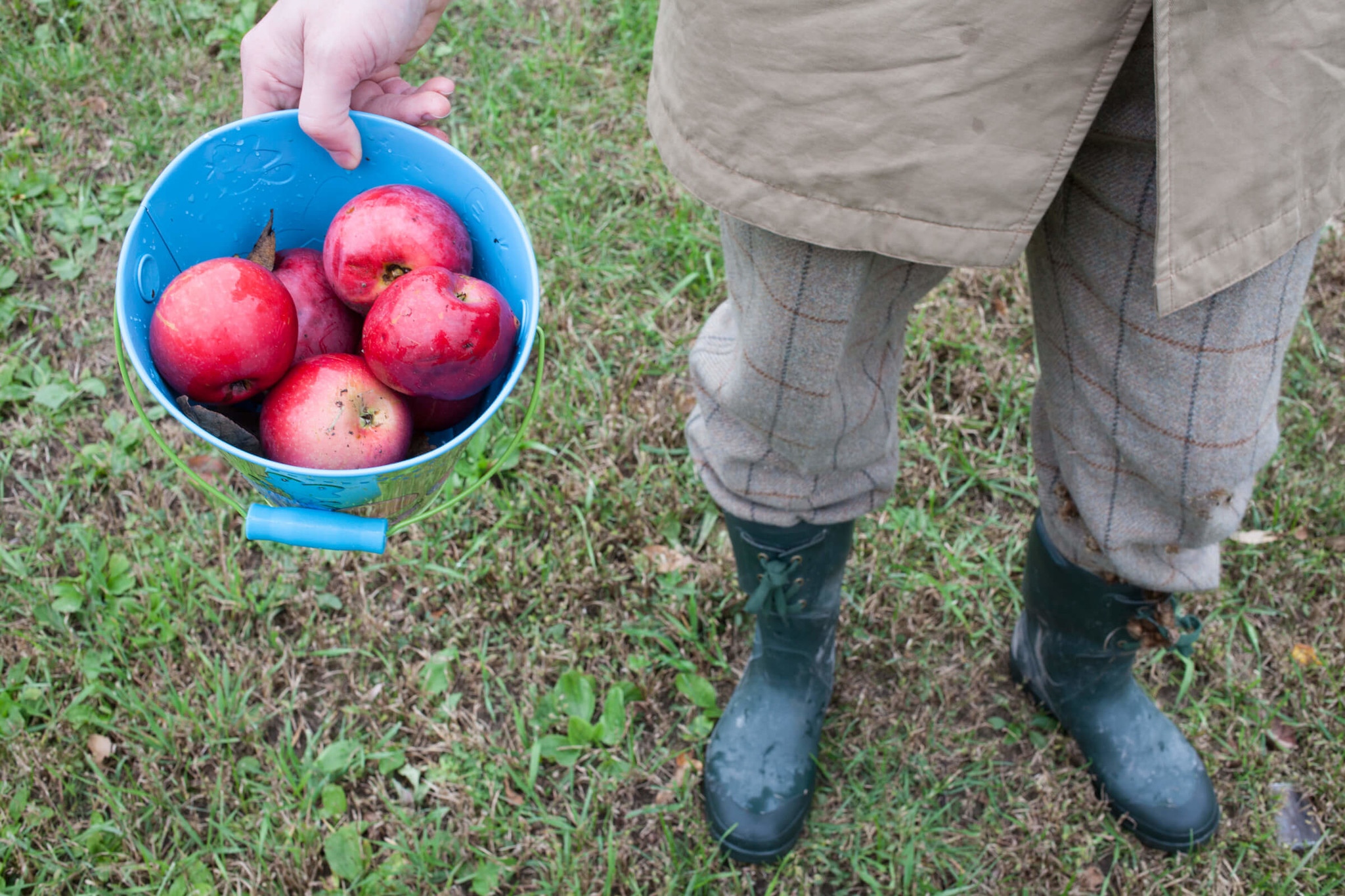 No filter required, these apples are pretty much the only colour going right now.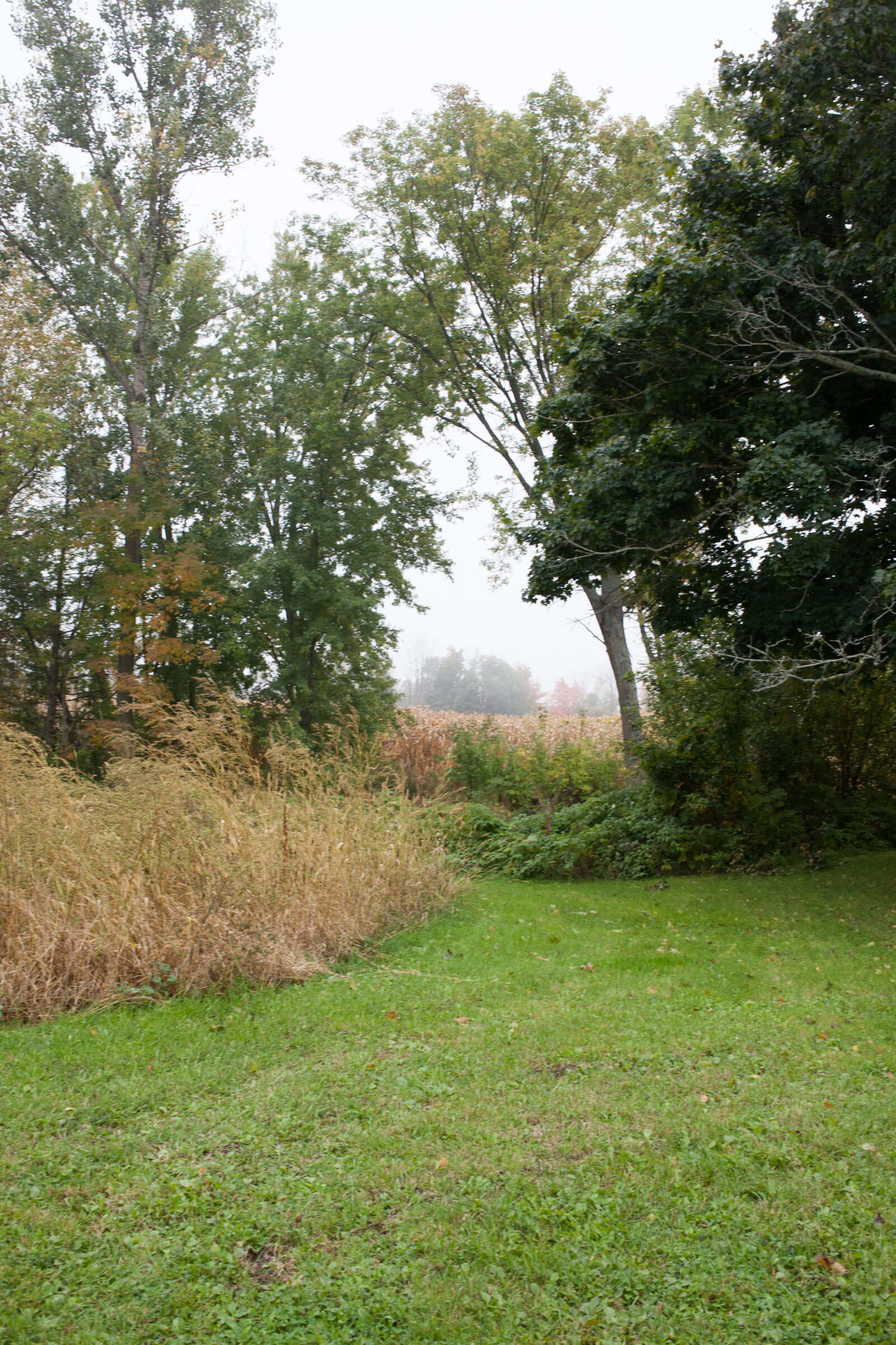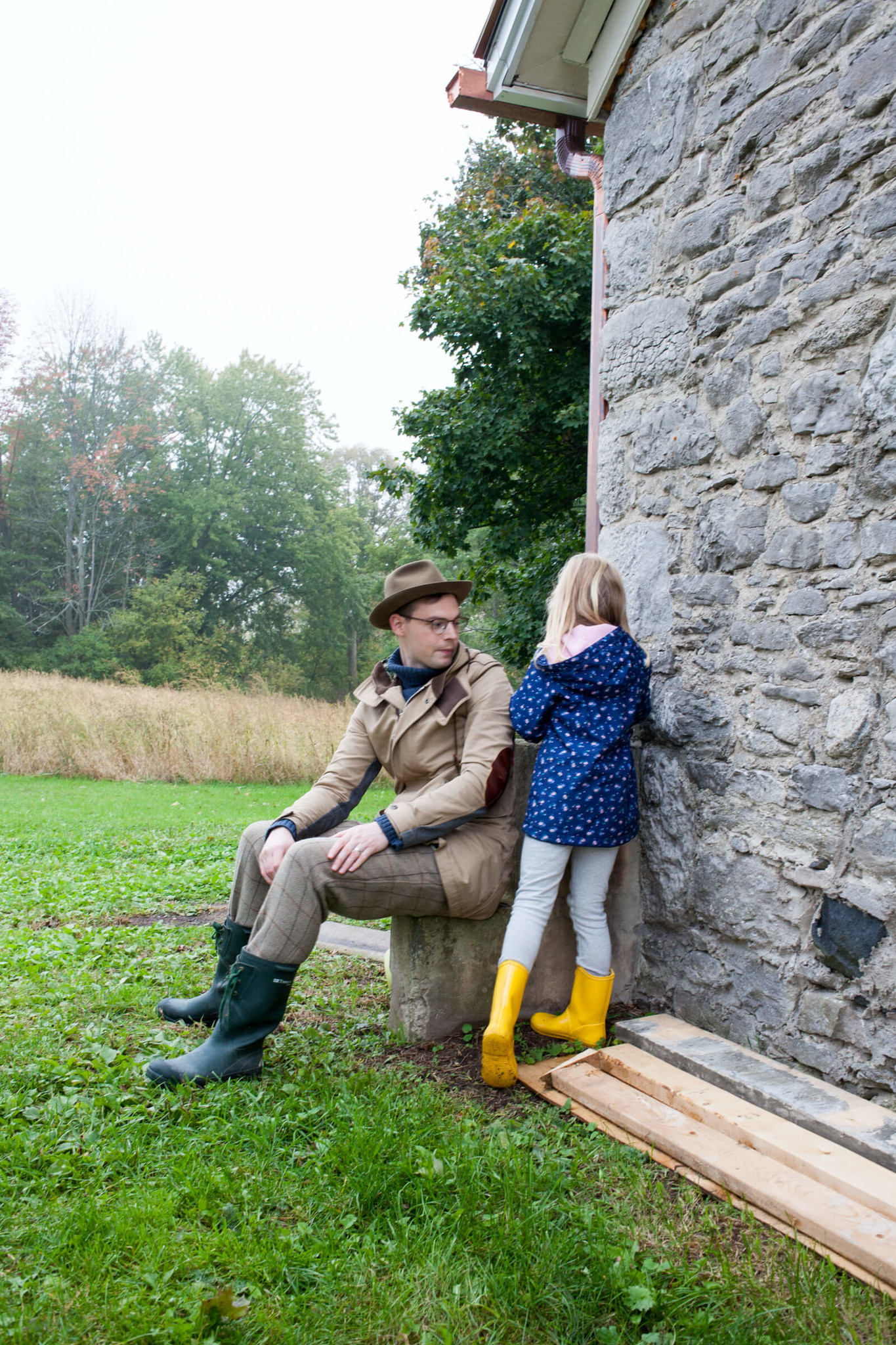 I am pretty envious of John's get up. Where can I buy this without going to the UK? Not a rhetorical question, shoot me a message via juli_at_mjolk instagram or Mjolk email. It sounds silly but I feel I need an appropriate wardrobe of tweeds and horseback riding fashion breeches (I had a great pair from Club Monaco circa 1994).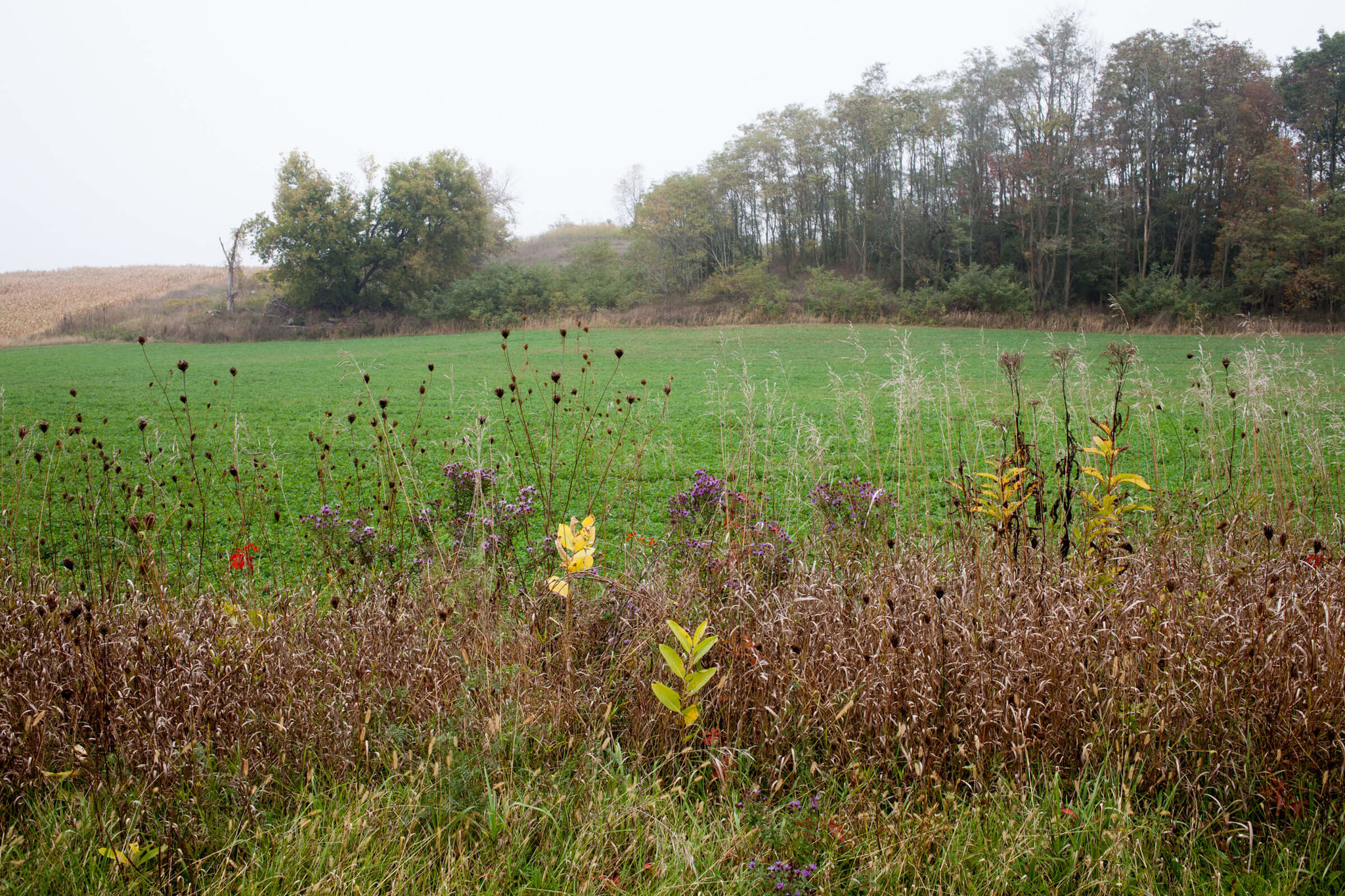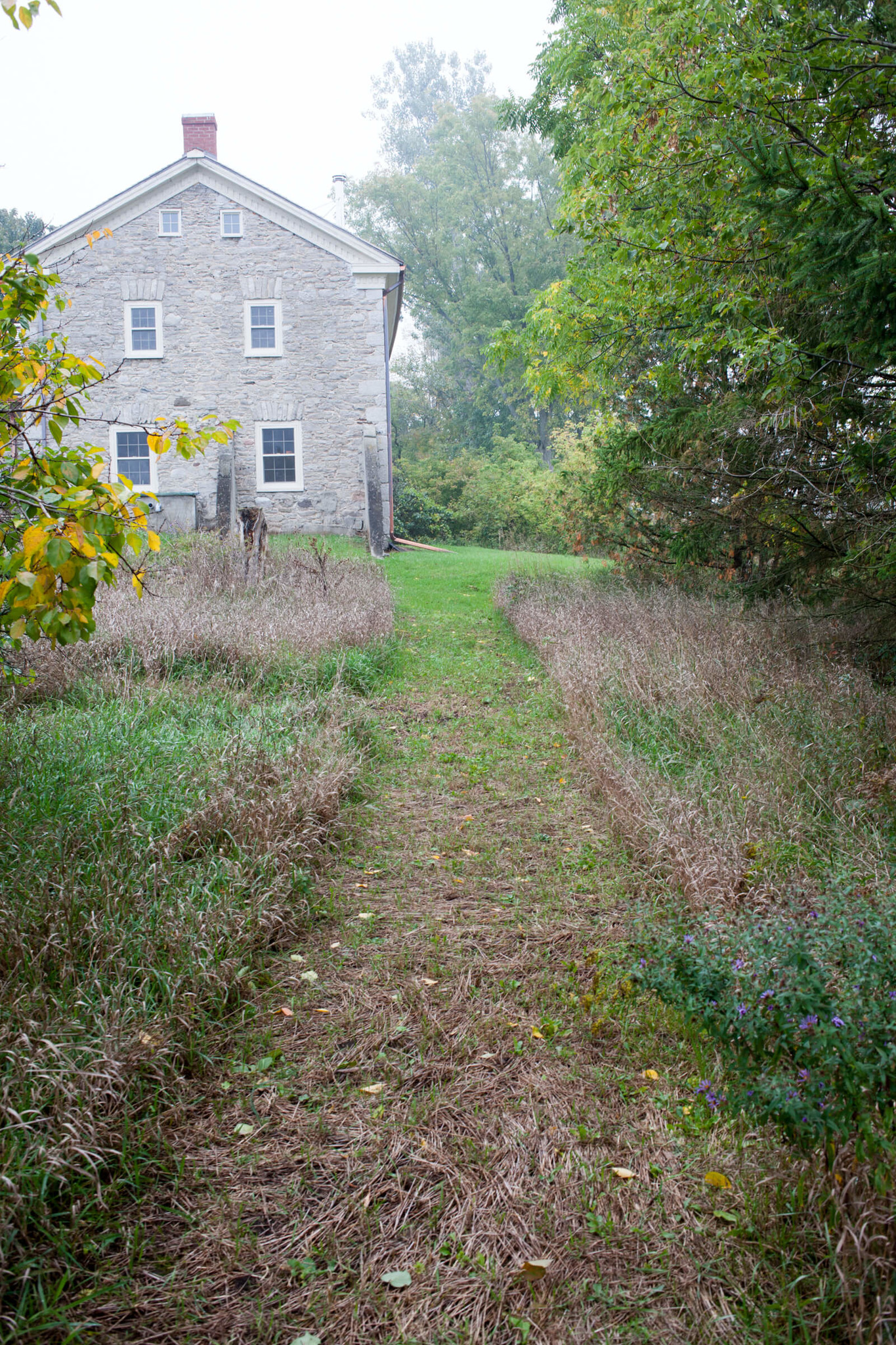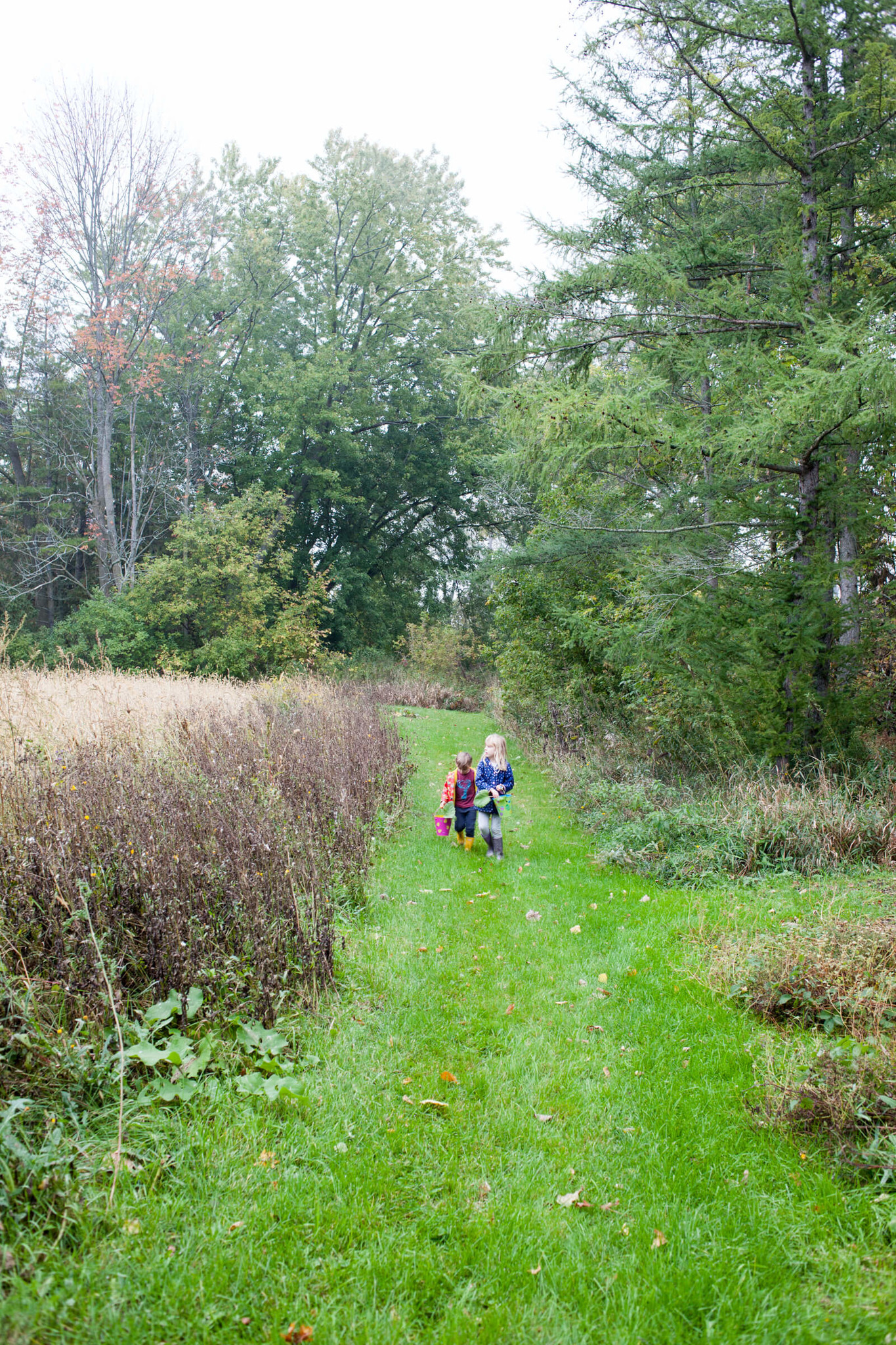 We have lots of little paths around the property. Here I found the kids exploring on their own.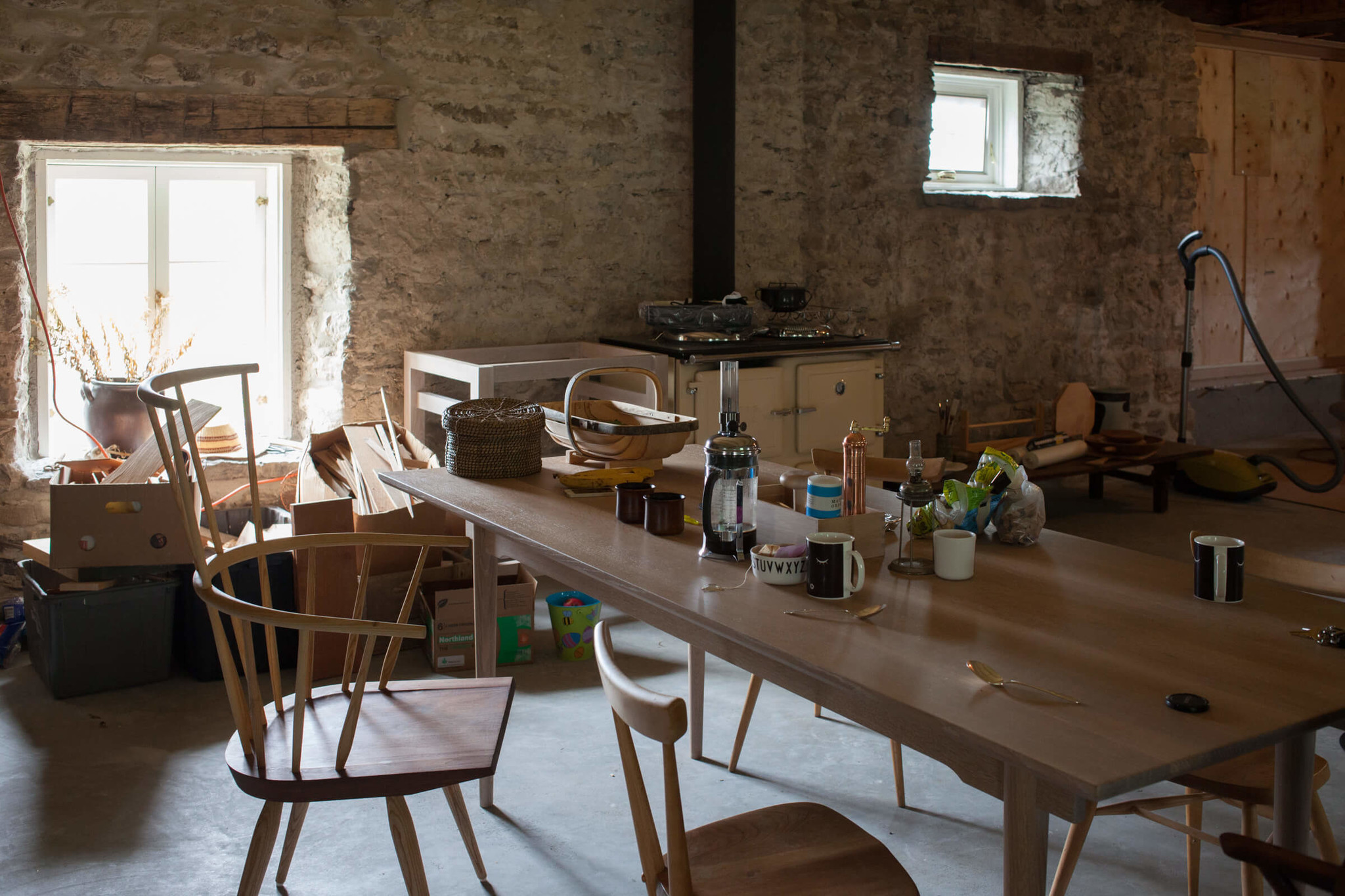 Meanwhile, inside we drank a lot of coffee, had fires, and enjoyed the dark moody interior. The kitchen is obviously still a work in progress but the light, THE LIGHT! It's like living in a Vermeer.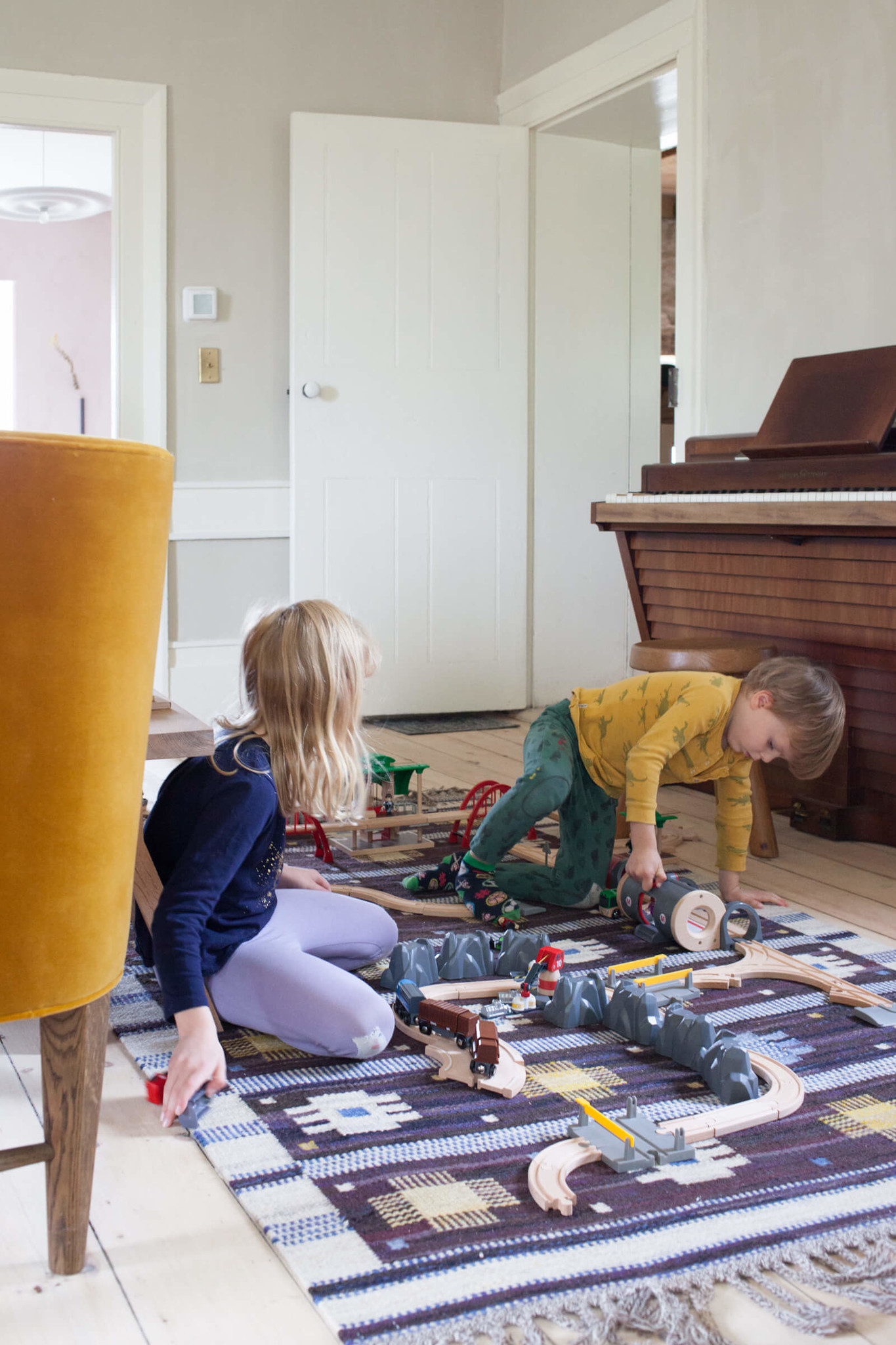 On Saturday we went into Belleville, to L'Auberge du France for some promised french fries. Next door is Scalliwag Toys which we popped in to grab a new board game (based on my Instagram Stories and availability, we bought Ticket to Ride). We were feeling a wee bit high on family life and ended up buying the deluxe Brio train set...and a Playmobile bakery too. The owners of the shop were very sweet -- the very reason it's important to SHOP LOCAL. I don't know how this little shop survives with all the big box shopping mall competition but I hope that locals begin to appreciate their very cute and walkable downtown main street. It's high time we reclaim our retail landscape.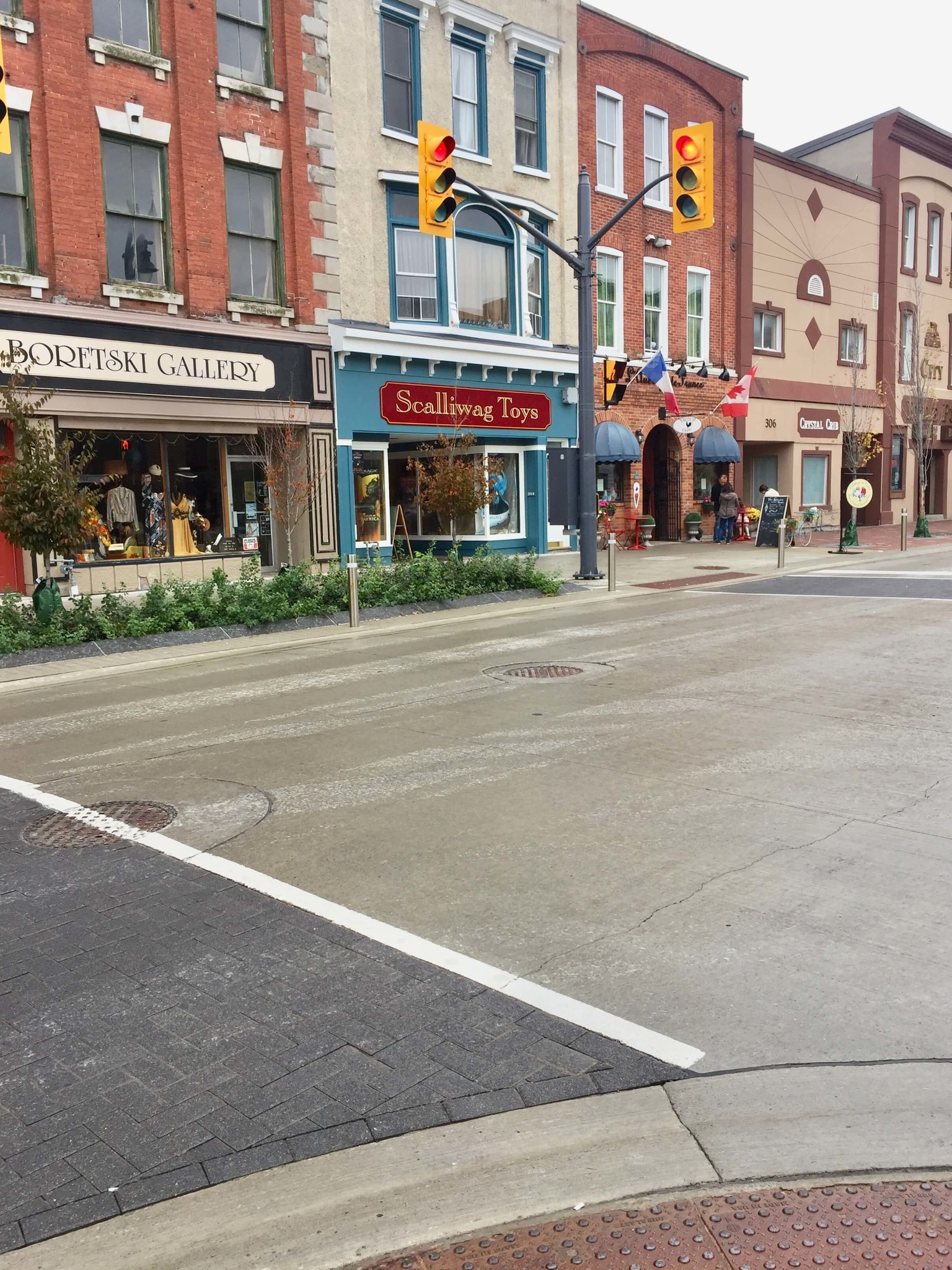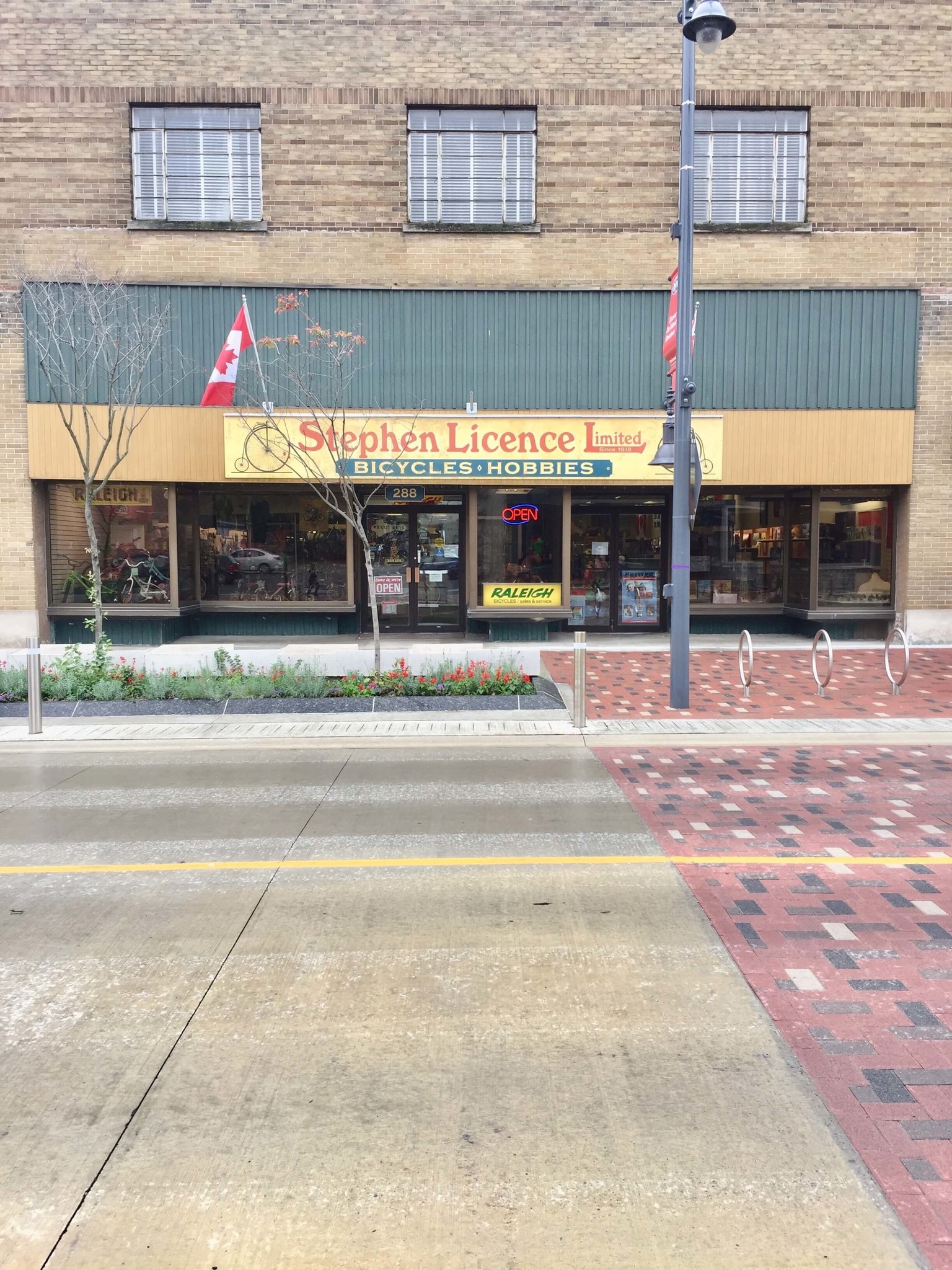 A mini tour of Belleville, to inspire you to shop local. 
Left: Scalliwag Toys and L'Auberge du France cafe. 
Right: Stephen License Bicycles & Hobbies - this place is so classic.  We almost went in but I was feeling reckless and knew I'd end up buying an electric John Deer riding car or something. Also the reason we didn't go into the neighbouring pet shop...that bunny in the window was so cute and living life in a cage that was past due for a clean up. It's important to know when you have no boundaries.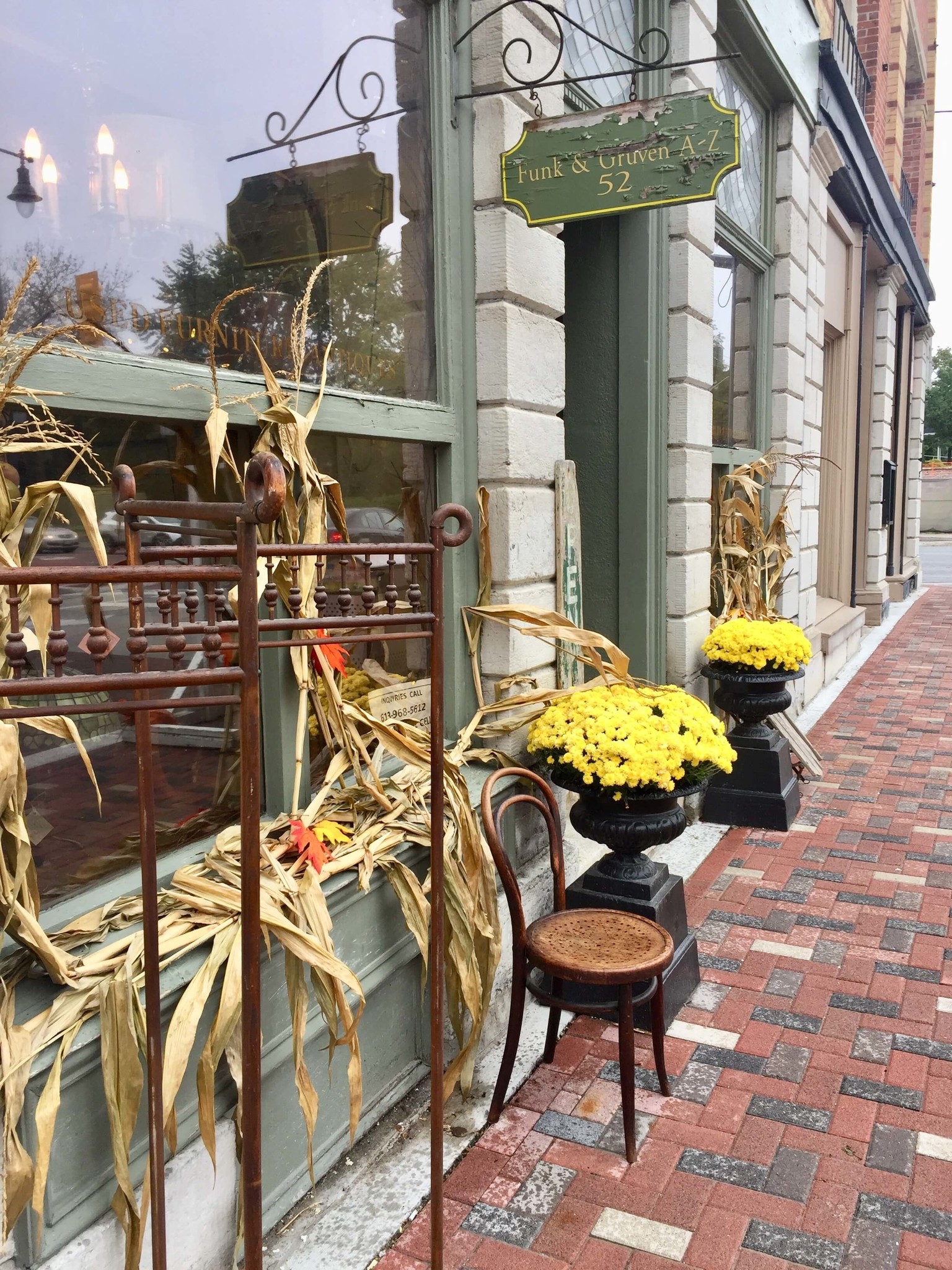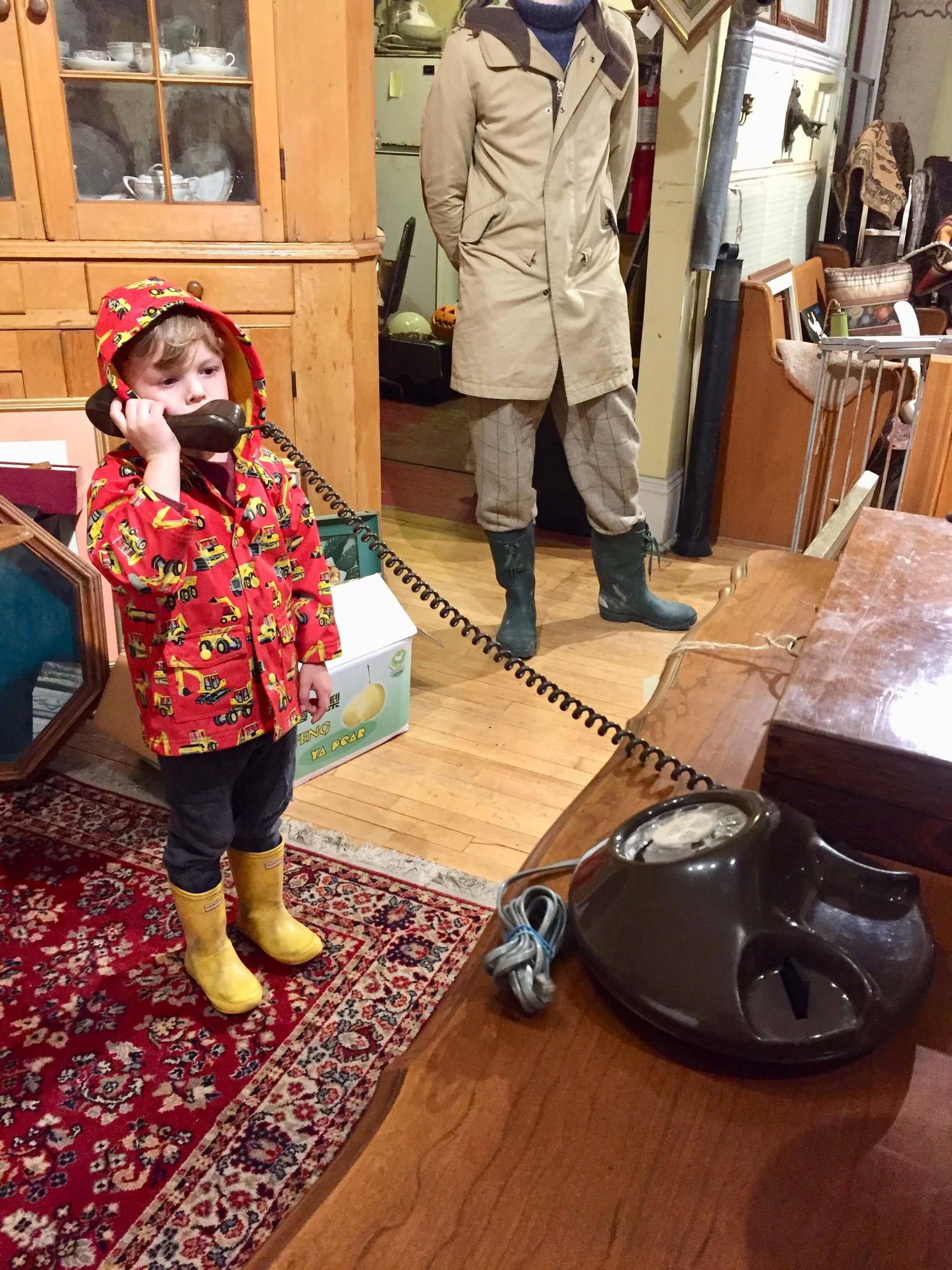 Funk & Gruven A-Z antique shop and Howell talking to 1974.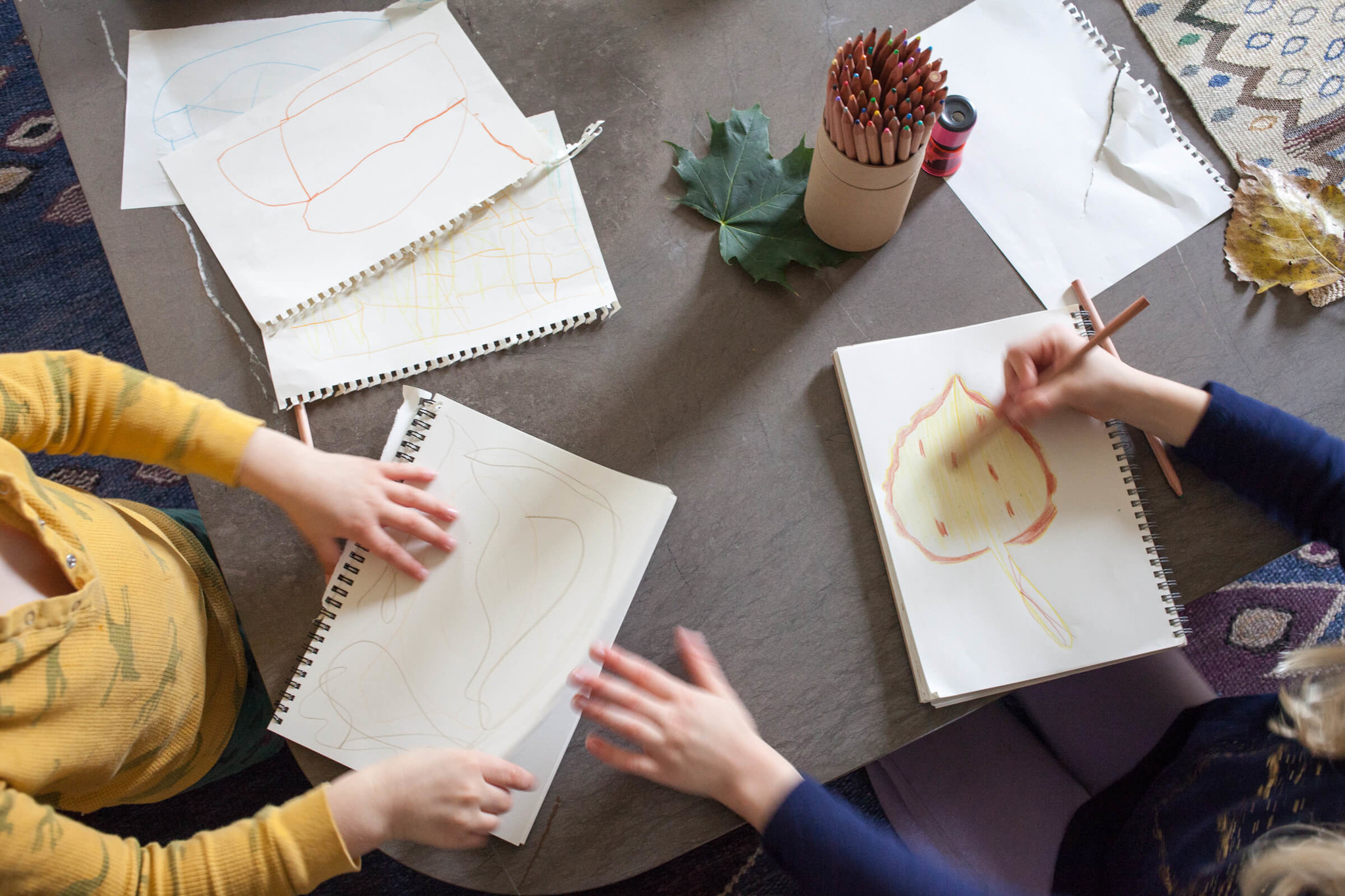 Back at the stone house, the kids were playing hide and seek, which always tickles me considering there are nearly no places to hide. Howell usually ends up running shoeless outside in search of cover so Elodie ended up out there too. They returned about 5 minutes later with a bucket of leaves and proceeded to work quietly on the perfectly positioned large scale Fly coffee table. Using the leaves they acquired they did leaf studies. Be still my heart!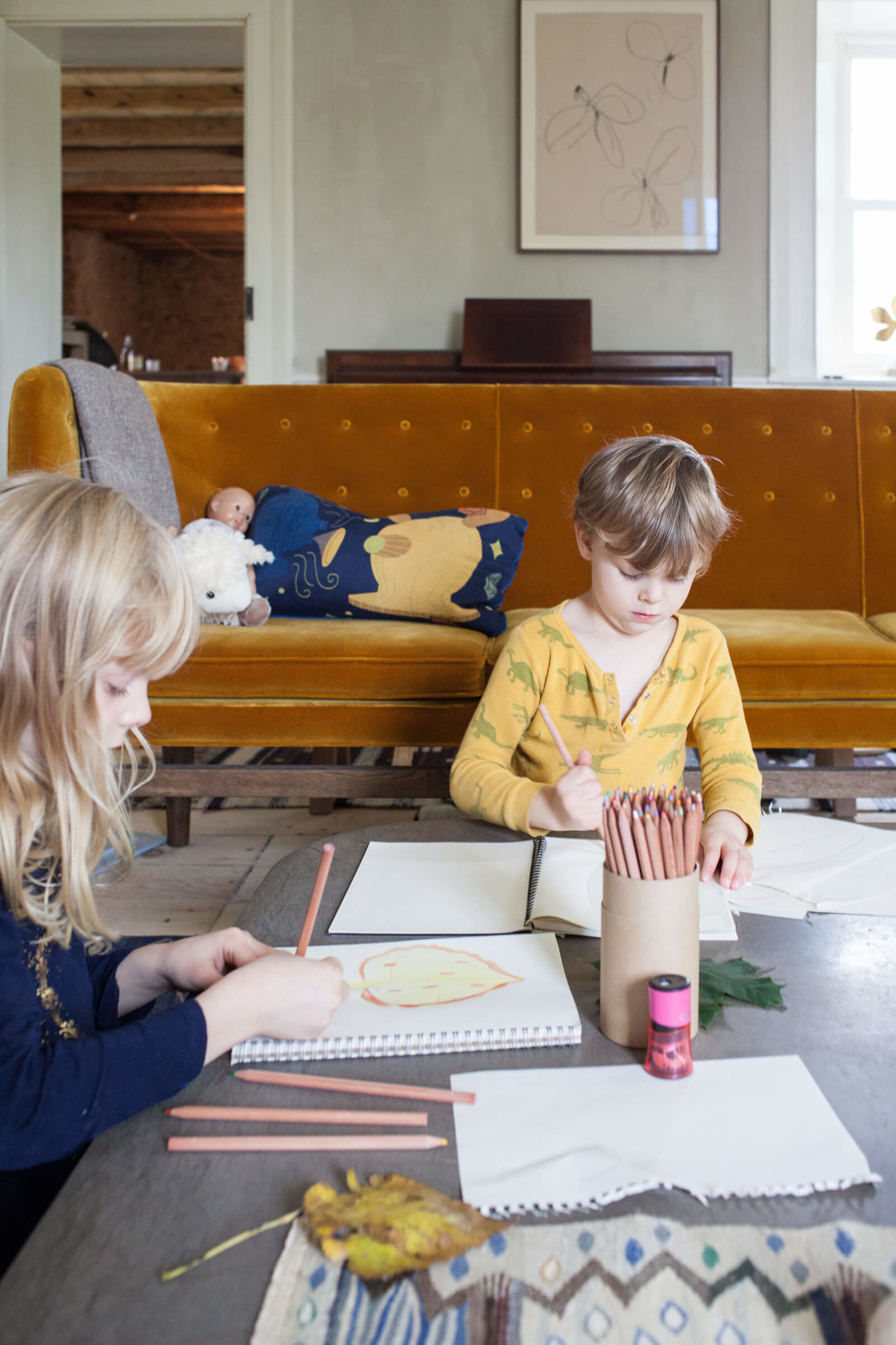 So quiet, so focused.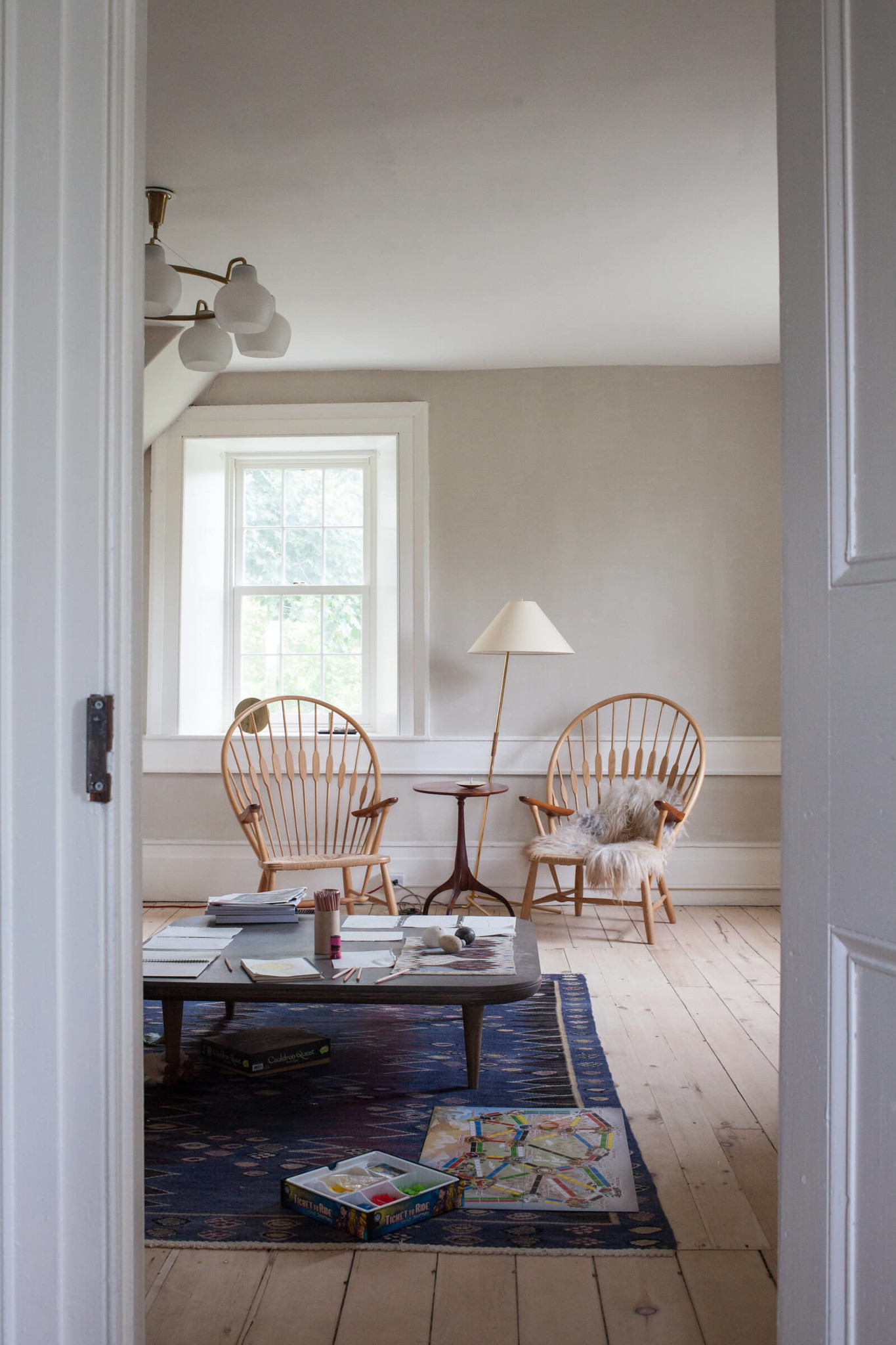 The Hans Wegner Peacock chairs are together again. We just couldn't separate them, despite our best intentions to buy two and sell one to pay for the other.  That corner needs work but it's a great start! It's my newspaper reading corner.
Next post will be about some new hardware and small design objects.