Login
Log in if you have an account
Register
By creating an account with our store, you will be able to move through the checkout process faster, store multiple addresses, view and track your orders in your account, and more.
Create an account
Cecilia Vissers at Mjölk
22 Jan 2019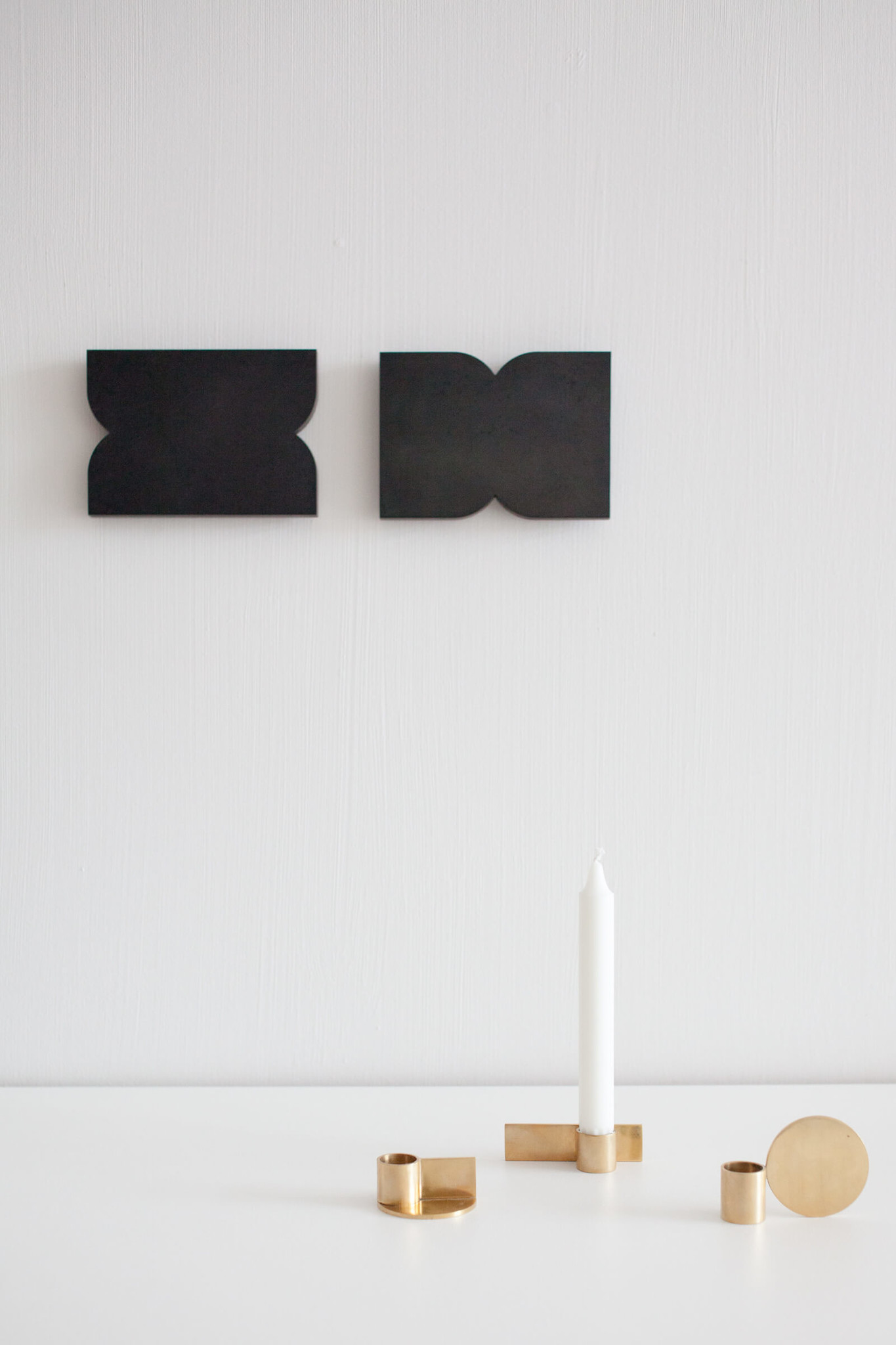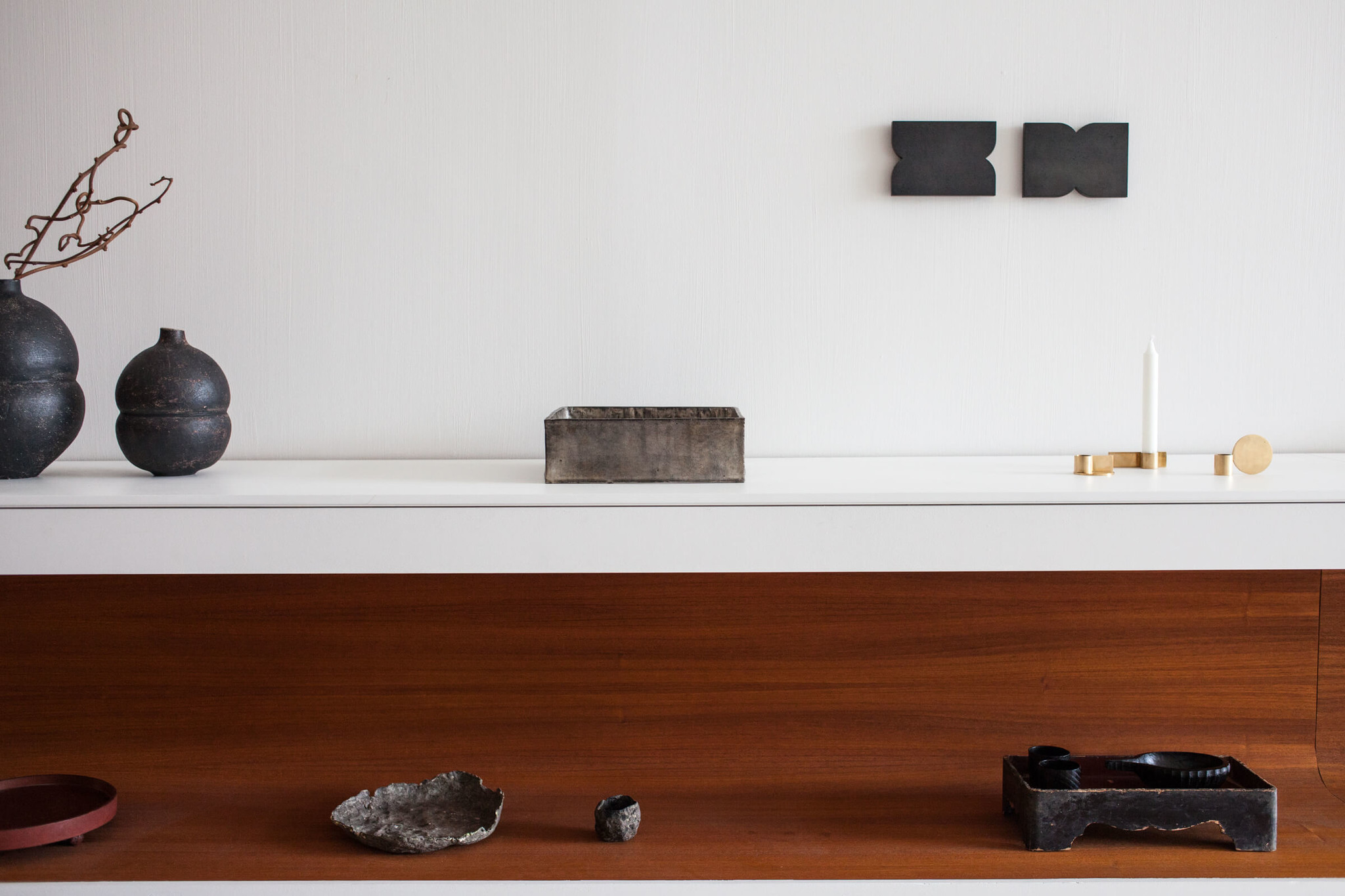 We are so happy to introduce Cecilia Vissers work in our showroom. I remember the first time I saw her work was at the home of Eero Koivisto, of Swedish architect firm Claesson Koivisto Rune. It was evening, and I remember seeing two plates, one raw aluminum and another that was anodized orange which hung in Eero's hallway. It wasn't the same vibrant orange as the piece in our showroom. It read closer to burgundy in the hallway, and I distinctly remember Eero mentioning that the aluminum panel was somewhat of a chameleon. Changing its colour throughout the day.
Claesson Koivisto Rune had recently completed an incredible project in Marfa Texas, a town that continues to feel the presence of late-American artist Donald Judd. The build is called the Inde/Jacobs Gallery, and happens to be our second point of connection with Cecila Vissers work. I remember seeing an incredible range of plates, all interacting with each other in this perfectly realized white space. The desert seems like a perfect home for this work, as does the edge of the world hanging over the Irish sea.
We are very proud to display this work, and to present this interview to you below.  
title: Faraway I and II 
edition of 12, in linen bound box with inscription
year: 2014
material: hot rolled steel, black patina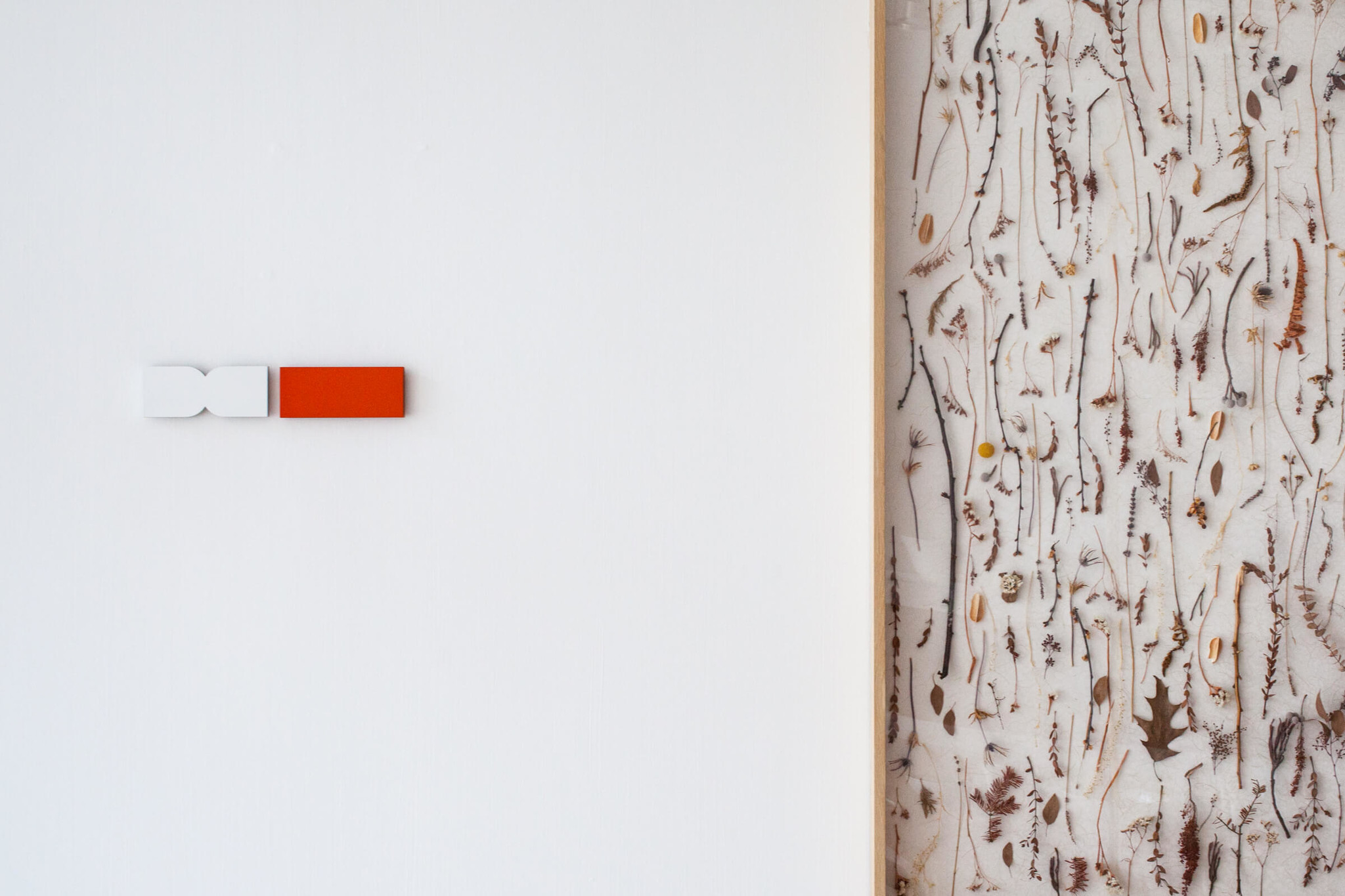 title: So Close, two-part
edition of 25, in linen bound box with inscription
year: 2015
material: anodized mill aluminium
Interview between Cecilia Vissers and John Baker of Mjölk.
December 2018.
JOHN: I have been living with your work here at the showroom, and I've spent a good amount of time thinking about where exactly I want to place your work in our gallery. There seems to be a great importance on location in terms of the work. The actual pieces sit 10mm from the wall, the distance between each plate and also the names themselves "So Close" "Faraway" seem to play with the emotional tether (chain, binding, tying together) between the viewer and artwork. (+ landscape)
CECILIA: Thank you, John, for your good observations of my wall-based sculptures. I really appreciate it when the viewer takes time to comprehend my minimal work. The best way to understand it is to 'live' with it for a while. The placement and installation of my spatial work is very important, I often say that space and object together form the final work of art. The space between the individual parts is important and forms the negative space. By looking very carefully at the lines and the forms of the negative space you can see the proportions and forms of the subject much better. To me a work of art does not exist without surrounding space. I feel there's a continuous dialogue between object and architecture. In this context I like to use the word 'synergy' as I believe that all things work together to produce something greater than the sum of their individual effects. 
JOHN: I've been admiring your photography of the Irish coast and cliffs, a landscape that is both beautiful but also harsh. I've learned speaking to you about how this environment inspires your work, and I could sense the connection even before seeing this imagery. How would you describe your experience exploring and documenting this landscape?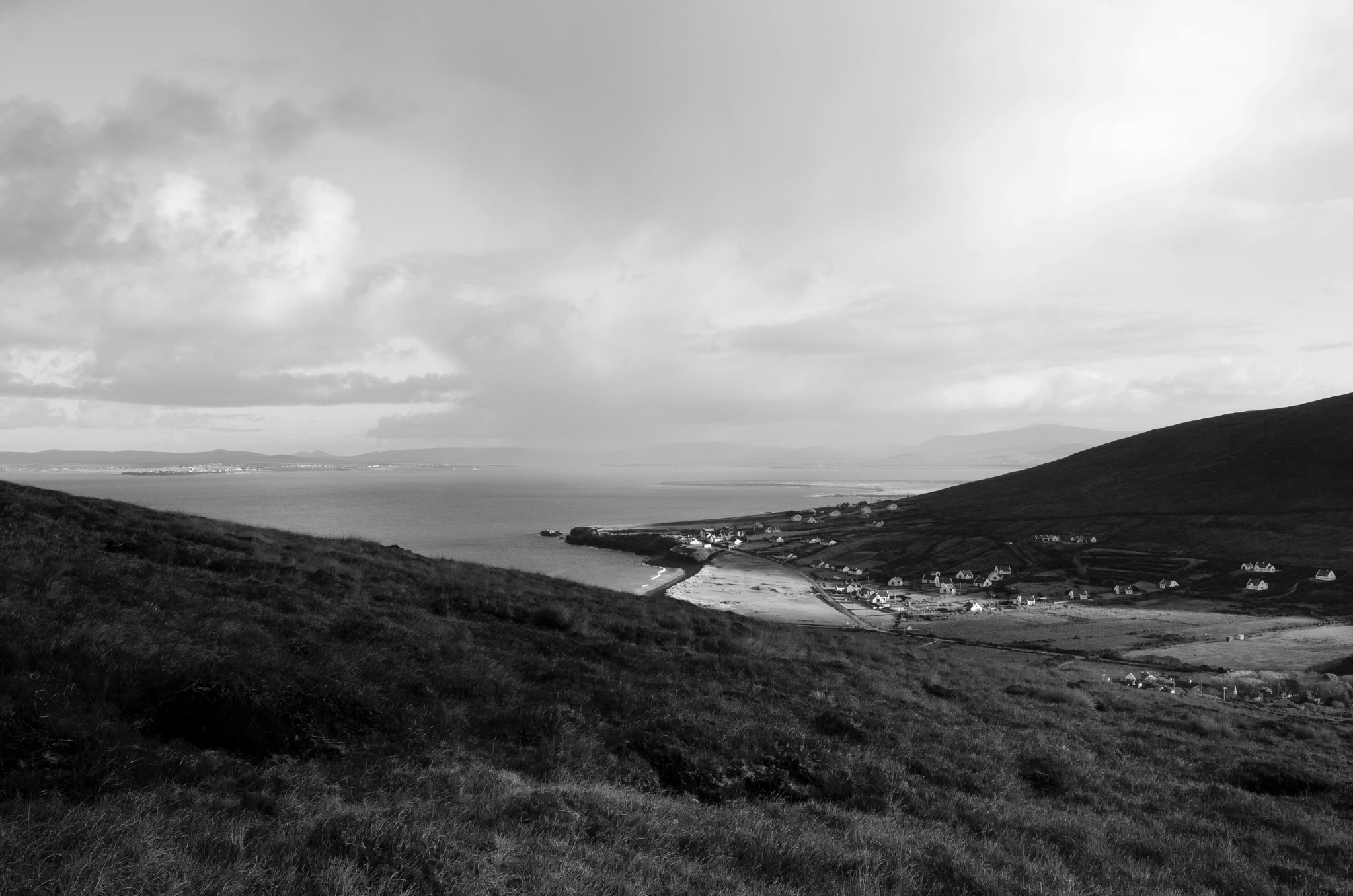 Achill Island, 15, 5x24cm, silver gelatin print, 2014 (photo Cecilia Vissers)
CECILIA:  My many trips to Scotland and especially to the West coast of Ireland are the basis of my work. I have to be there in that landscape, I want to stand on the cliffs and look out over the Atlantic. The wind, the waves, the rain. It has everything to do with emotion and memories. In 2009, I came to Achill Island for the first time. I felt very strongly that I had been there before, a kind of recognition. We made a long walk in the driving rain and strong wind. It was fascinating to see how the rain formed tiny streams running from the mountain slopes. In 2014, I was selected for a second residency on Achill Island. One night there was an exceptional strong wind on the island. The next morning, I went for a walk, the sky had a deep dark grey colour, roads and sidewalks were lit up, bridges were split and piers damaged. Due to the flooding there was an incredible amount of plastic on the beaches. I noticed a beautiful coloured sea fish thrown on one of the coastal roads. Stretches of the coast were completely washed away. The many pictures made on this walk serve as starting point for my work in steel, a source of inspiration. Only a few times I've shown my photos of landscapes in an exhibition. Yet I consider these images as an important part of my artistic practice. For me, landscape and image form a unified whole, just as space and image can't exist without each other.
Achill Island, 15,5x24cm, silver gelatin print, 2014 (photo Cecilia Vissers)
JOHN: What role does distance play in your work?
CECILIA: Many of my works consist of several parts. When hanging my work, I keep fixed and very precise distances between the different parts of my work. These distances have been calculated and recorded in the manual that comes with each piece of art. The intermediate space is very important, you could even say that the 'space in between' is a work of art in itself. Also, the distance between the viewer and the actual work plays an important role; when the viewer changes position the influence of the light on the anodized surfaces of my work also changes. In 2015, I had a solo exposition at Inde/Jacobs gallery in Marfa, Texas. I was lucky to visit this special place, partly thanks to grants provided by the Dutch Embassy in New York and the Brabant Art Foundation in the Netherlands. My installations sometimes consist of eighteen parts. In the centre of the beautiful gallery space (designed by the architects Claesson, Koivisto, Rune from Stockholm) the visitor will see the so called 'Hanging Cube' .
Installation of Ridges at Inde/Jacobs gallery in Marfa Texas, 2015 (photo Cecilia Vissers)
For me this was the perfect place to show my installation ' Ridges ' (image above) consisting of a total of eighteen pieces in anodized aluminium. Inside the gallery, a skylight brings the bright Texas light into the beautiful white-walled space. The light in the high desert is very strong. It's not a big surprise that Marfa is known as the 'Mecca of Minimalism'.  The late artist Donald Judd – considered a pioneer of Minimalism in the US- moved to Marfa in 1972. With the help of the Dia Art Foundation he purchased a U.S. Army base. Over the next 15 years, he renovated and restructured the buildings to show his permanent installations. The Chinati Foundation now draws visitors from all over the world who have heard about the spirit of the place and are curious to discover it for themselves.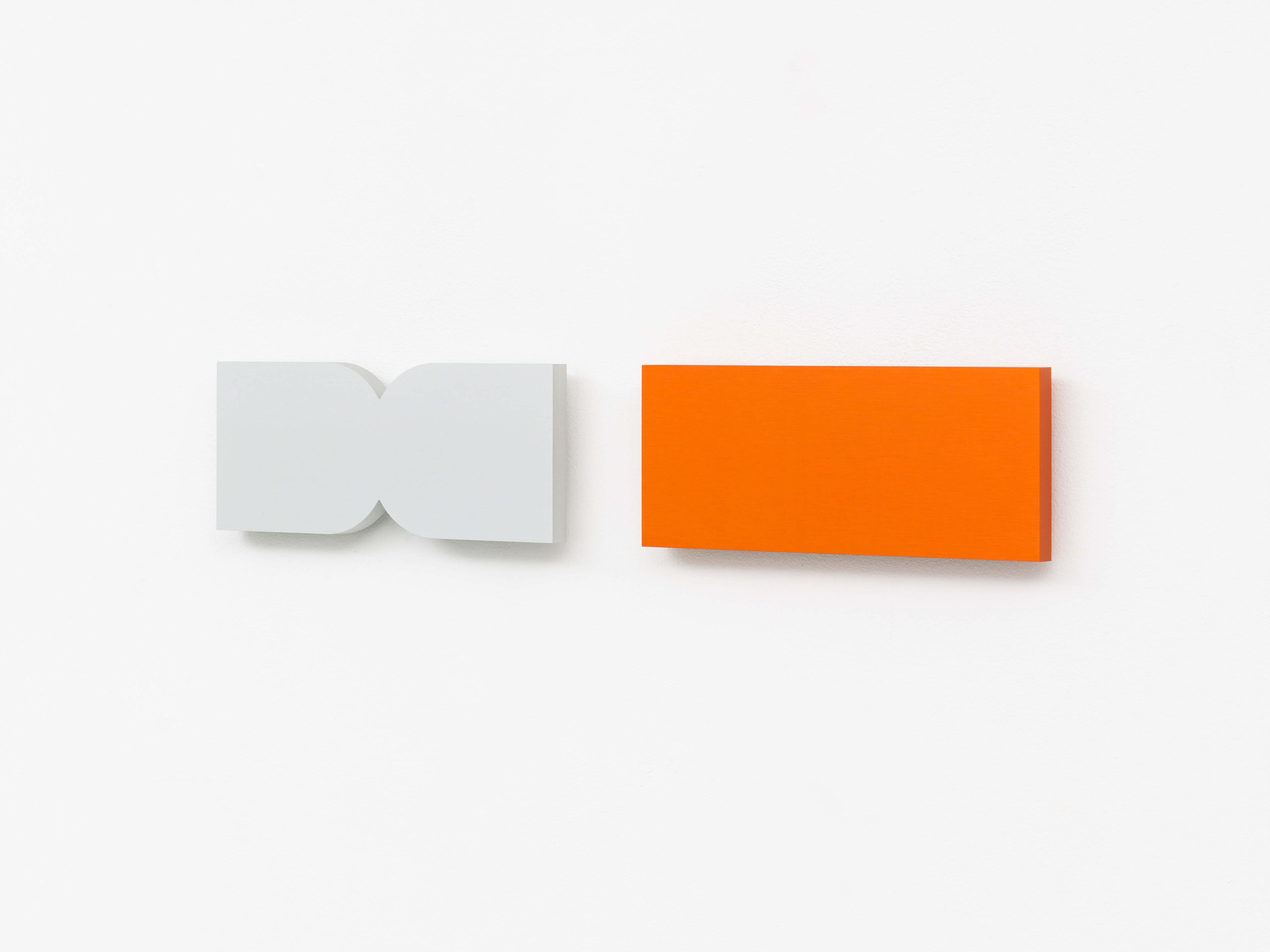 So Close, ed.25, each part 8x20x1,2cm, anodized mill aluminium, 2015 (photo Peter Cox)
JOHN: I love the vividness of the anodized aluminium, there is an incredible depth in the colour and finish. Can you explain a little more about this process, and why it was your preference instead of simply having the works painted?
CECILIA: My edition 'So Close'(image above), presented in your showroom, has been executed in anodized mill aluminium. This is a good example of high tech industrially made work. The two-part was made in a factory that makes airplane parts, very precise. The work is milled by a robot in a closed cab. Then, the work goes to a specialized factory where the works are immersed in different colour baths. For me, this process is especially interesting because the anodizing respects the natural appearance of the metal. In the morning, the colour of my pieces is bright orange, in the evening the colour turns into a deep almost red hue. The colour anodizing respects the underlying material, this is a totally different approach than covering a surface with a coat of paint. Besides my work in aluminium, I also like to work in hot rolled steel. This is a different approach, it has more to do with the purity and natural appearance of the metal. When I need a plate of hot rolled metal, I visit the metal supply where I compare a few plates of steel. Each plate weighs up to 250kg. Here I pay attention to the colour and texture of the steel. Each plate is unique and has its own colour and pattern of darker and lighter spots.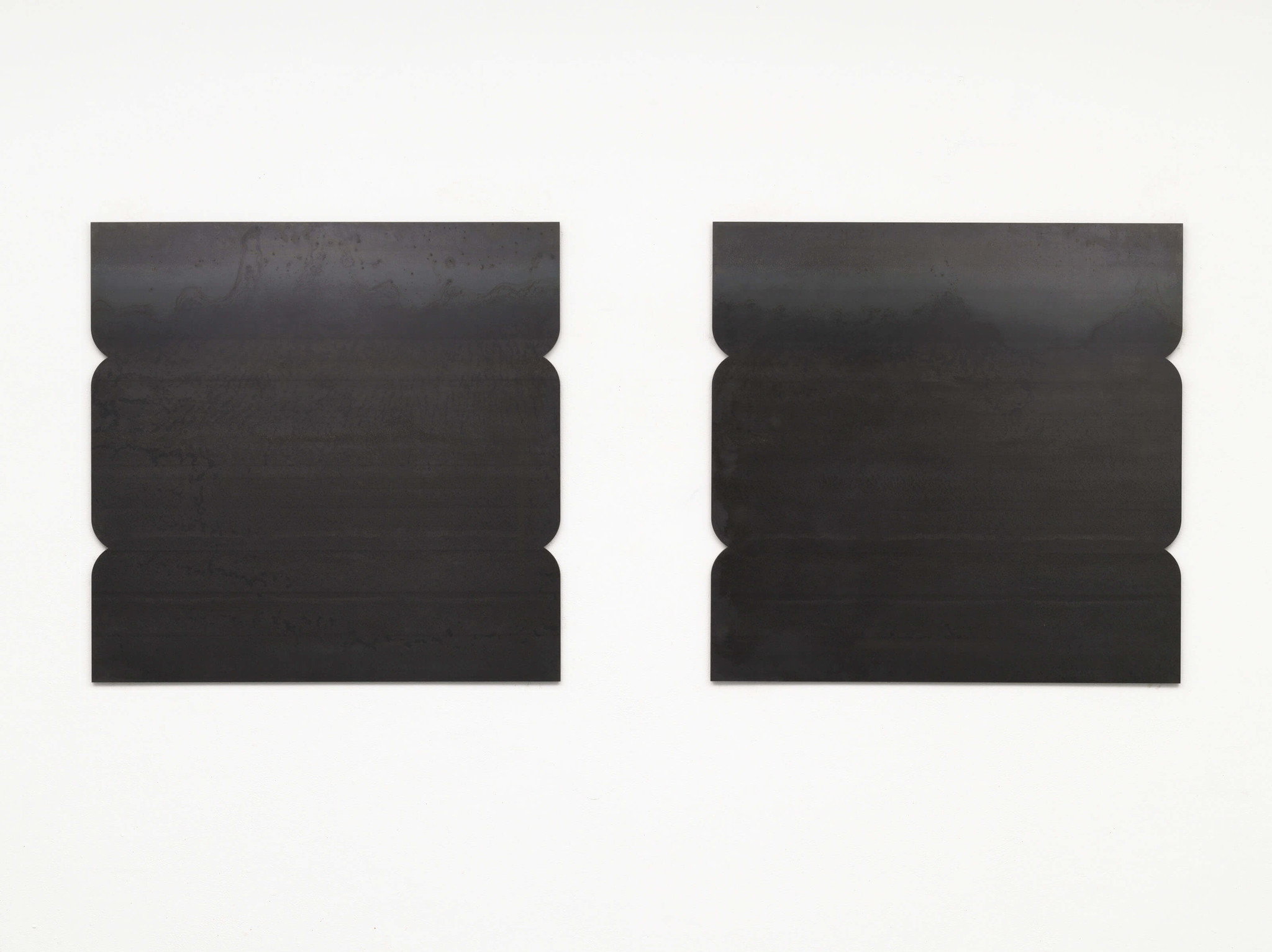 Blacksod Bay, each part 93x95x0,8cm, hot rolled steel, 2010 (photo Peter Cox)
In 2010 I made my two-part 'Blacksod Bay' (image above). At that time, I stayed at the Heinrich Boell Cottage on Achill Island. The Achill Heinrich Boll Foundation operates the residency and it is a great opportunity to explore this particularly isolated peninsula. Achill represents the most western point of Ireland. It signifies the extreme edge of the land. You cannot physically go further. I would walk over the high cliffs and see the ocean there below and could do so without distractions: there were only the sea and the waves, the wind and the lines. The cottage is very secluded, it has a view over the surrounding mountains and a terrific sight over Blacksod Bay, a bay of the wild Atlantic Ocean.  
Sometimes the deep blue greyish colours are the result of the rolling process of the steel at the blast furnace. To intensify the colour and protect the metal, I use special patinas like 'Magic Black'. The deep blue and grey tones have my preference, they remind me of the colour of the sky and the ocean on Achill Island, Ireland. The landscape is my all-time guide, my travel experiences and the underlying emotions form the basis of all work. The many photos of wild landscapes form an important part of my artistic practice. They serve as a reference to go back to that one special place. The ultimate viewing experience is the feeling of being drawn into an experience. Mark Rothko has expressed this very well in the following quote: "The fact that people break down and cry when confronted with my pictures shows that I can communicate those basic human emotions. The people who weep before my pictures are having the same religious experience I had when painting them. And if you say you are moved only by their colour relationships then you miss the point." Mark Rothko
JOHN:   What a wonderful sentiment. I read that one of your first attempts to shape a plate of metal involved using a hand-held jigsaw in your original studio which was a shared space with metal workers. Tell us about this first experience and its result.
CECILIA: About a year ago my monography 'Flatness in Space' was published by artbook publisher Lecturis in Eindhoven, the Netherlands. Art historian Dr. Alistair Rider from Scotland wrote a beautiful essay titled 'The Cut and The Profile'. 
I'd like to share a few sentences:
"One of Cecilia Vissers' earliest attempts to shape a plate of metal involved using a powerful hand-held jigsaw. She had recently graduated from art school in the Netherlands and established a studio for herself in a building that used to be an old forge. A blacksmith, who was still working in another part of the workshop, had instilled in her a fascination with the ancient art of working with metal, and she was keen to experiment. One day she acquired a long, rectangular plate of steel and made a curved incision, arching away from its straight edge towards the centre of the plate. Then she made another complementary cut a few centimetres to one side, looping inwards to join the first. That was all. The modesty of her intervention attests to the hardness of the steel: it is a material that demands an immense expenditure of energy in order to work it. But she had extracted a notch from the rectangular form, and in so doing had altered its overall shape and proportions." (Flatness in Space, A.Rider, 2017, p12).

JOHN: We're circled right back to the beginning with this note. Thank you so much for taking us deeper into your work. We are so happy to be able to display these pieces in our gallery.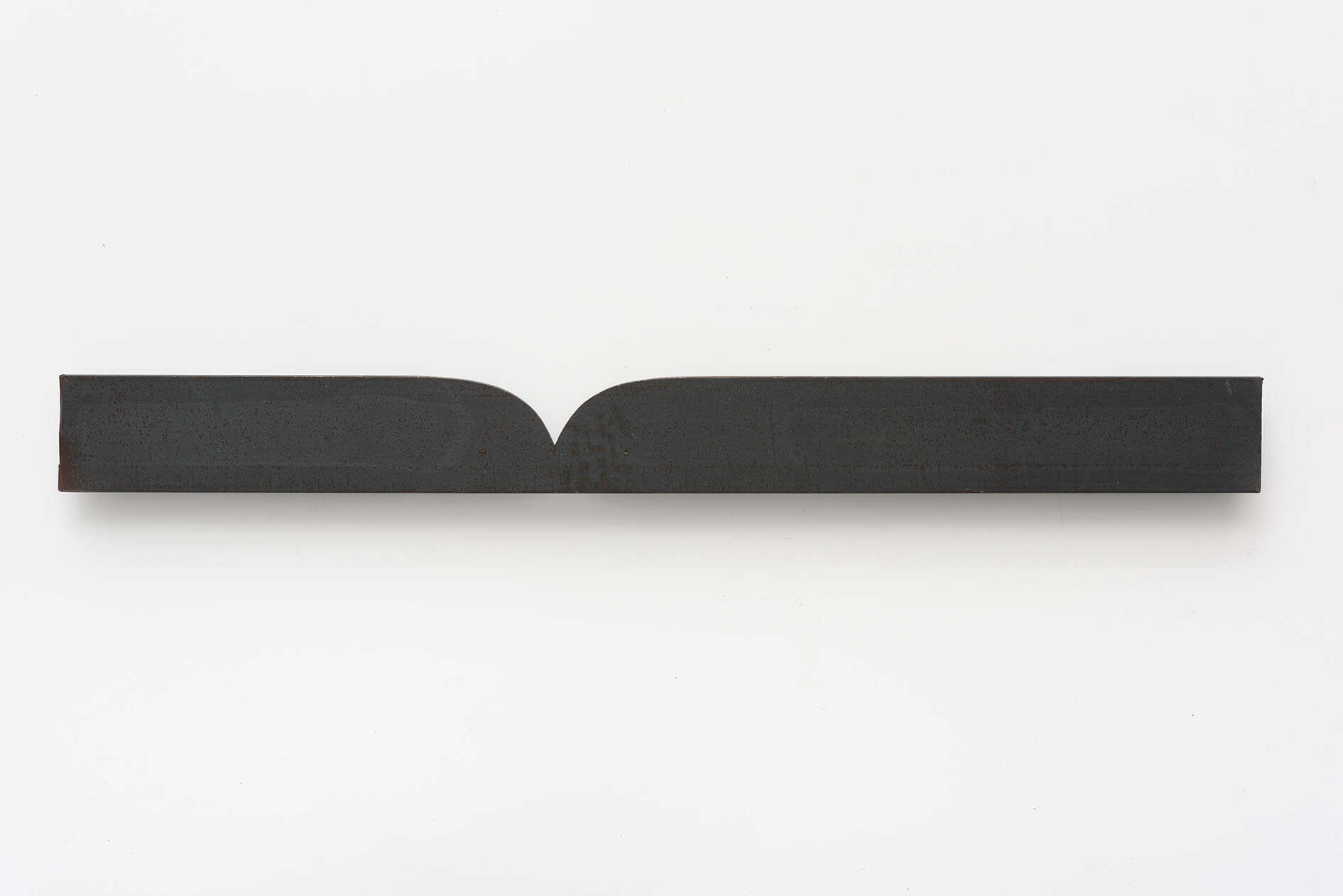 Curve No. 1, 5,9x61,4x0,5cm, hot rolled steel, 1998 (photo Peter Cox)
This steel sculpture Curve No.1, has become my template, it still lies on my workbench alongside my compass, right angle square and ruler. It serves as a model, and many subsequent works have been inspired by its proportions. In 2017 I decided to make Curve No.2, this work is the long-awaited successor of Curve No.1. I think it perfectly shows my working process. 'Work comes out of work'.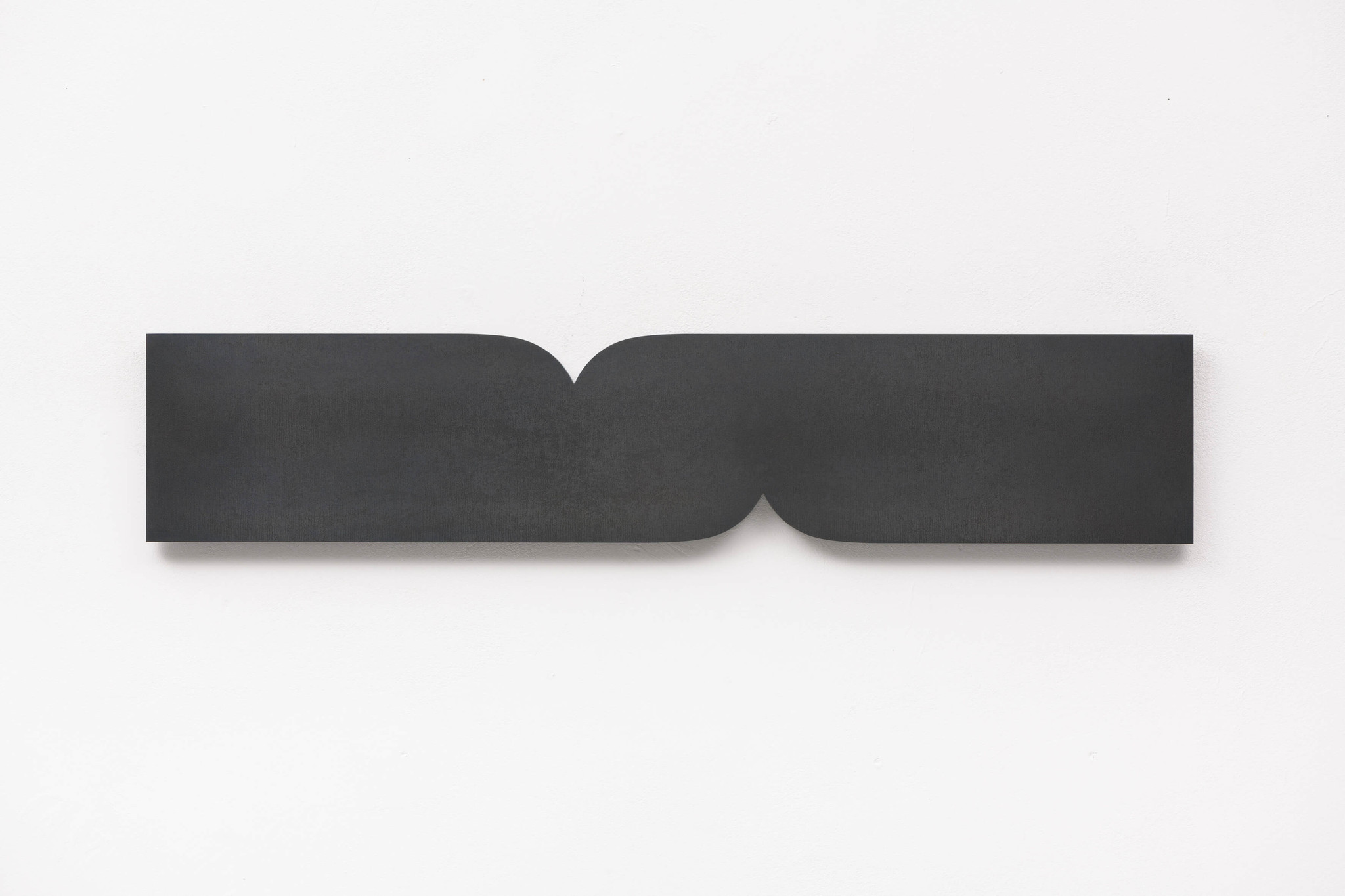 Curve No. 2, 12,2x61x1cm, hot rolled steel, black patina, 2017 (photo Peter Cox)
I'm really excited that you'll show my works in your showroom. Art & architecture belong together, I think they are reinforcing and influencing each other in a very positive way. Thank you, John, for doing this interview!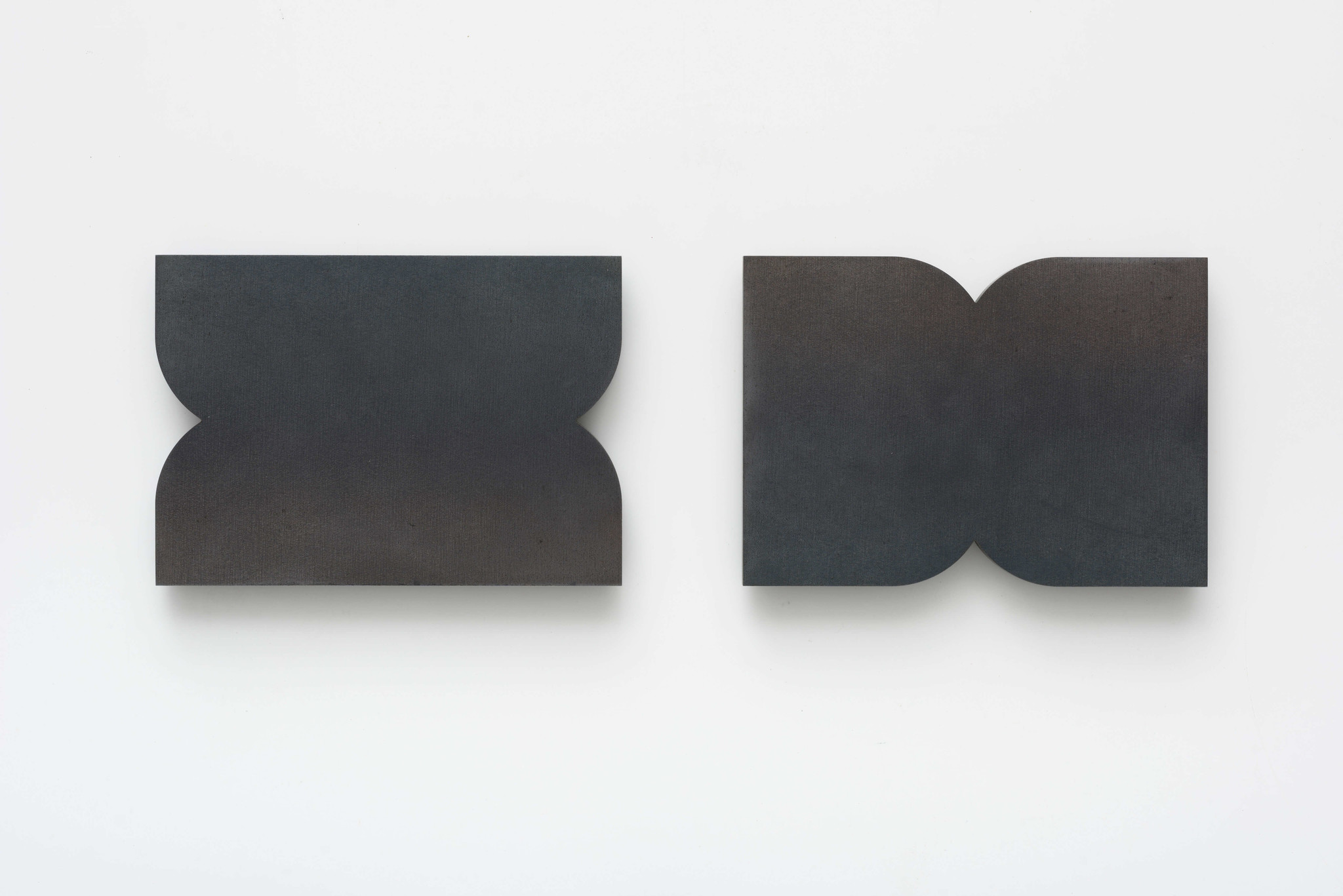 Faraway I (right) & II (left), ed.12, each part 12,5x17x1,2cm, hot rolled steel, 2014 (photo Peter Cox)
Cecilia Vissers
Sint-Oedenrode
Dec. 7, 2018