Login
Log in if you have an account
Register
By creating an account with our store, you will be able to move through the checkout process faster, store multiple addresses, view and track your orders in your account, and more.
Create an account
Masahiro Ishikawa
02 Jun 2021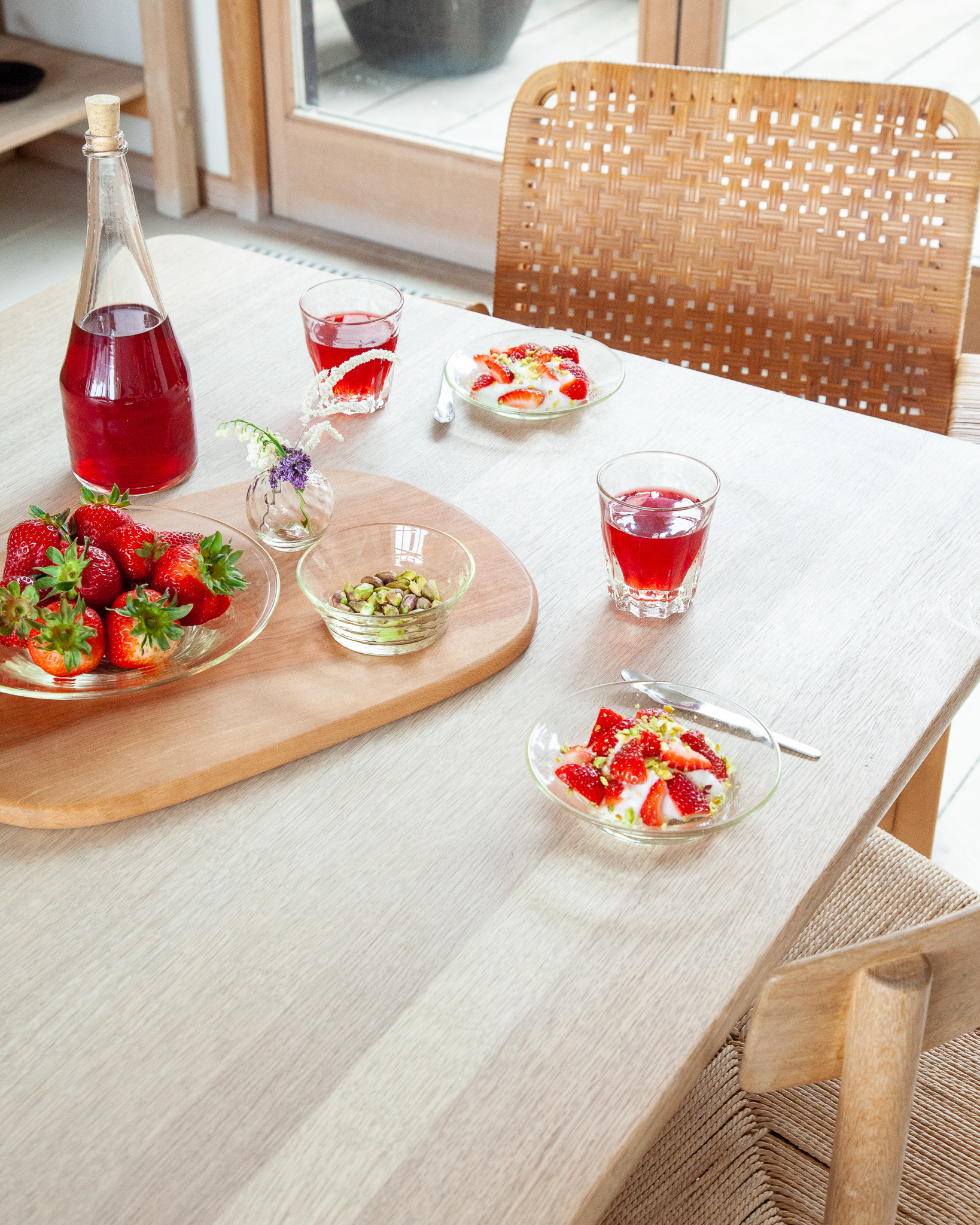 Fresh fruit on plates of glass appears to float above the table in all its ripeness. Condensation runs down patterned grooves on an ice-cold tumbler of Tom Collins.
Summer is our favourite time of the year for food and drinks. When the season explodes with boundless produce, it's best enjoyed fresh from the market (cooking is for winter). Just in time for the year's first strawberries, we're thrilled to announce the arrival of this collection of glasswork by Masahiro Ishikawa. His servingware and vessels are robust yet ethereal, with a subtle, warm hue, like that of honey. Gentle waves and ripples run along the surface, giving visual and haptic texture—a pleasure to hold in your hand. Mouth-blown in Japan, each piece is one-of-a-kind.
Masahiro Ishikawa is a Tokyo-born glassmaker currently based in Hayashima, Okayama Prefecture, Japan. Since studying under Shinzo Kodani in 1999, he has distinguished himself in creating straightforward, functional glassware for everyday use. He has shown his award-winning work at the Japan Folk Crafts Museum, dedicated to the hand-crafted art of ordinary people (mingei). In 2019 he held a national tour for the 20th anniversary of his business.
We had the pleasure of chatting with Masahiro Ishikawa about his work, influences, and philosophy:
Mjölk  
Can you tell us a little about yourself and where you draw inspiration from?
Masahiro Ishikawa  
I really admire "normal" things and have always wanted to be normal. I'm 6'4" and 210lbs, the same height and weight as the famously large baseball star Shohei Ohtani—much bigger than the average in Japan. I grew up feeling quite different from others.
My family describes me as being a teenager at heart, no matter how old I get. I suppose this means I'm always excited.
I believe in trusting your senses. Anything which catches my eyes inspires me.
Mjölk
You recently finished an exhibition titled "Our 15 Days—Taking Over and Being Store Managers"—what was the concept behind it?
Masahiro Ishikawa
We have been in a global pandemic for well over a year, living patiently but with great unease.
My exhibition "Our 15 Days—Taking Over and Being Store Managers" is an attempt to re-establish connections between local creators, neighbourhood businesses, and the community.
The exhibition is a collection of various works. I wanted to show a counterculture based simply on friendship and community, regardless of age, gender, or social status.
Mjölk
We understand you studied under the famous glassmaker Shinzo Kodani. How has this informed the glassworks you produce now?
Masahiro Ishikawa
Shinzo Kodani was my professor at university and my mentor, who taught me how to live life.
When I was a student working part-time at a bar, my boss served me tea in a glass made by Shinzo Kodani. He had no idea that the glass was made by an artisan; it just happened to be his favourite cup. I found the cup as beautiful as the sculptures of Constantin Brancusi or Alberto Giacometti—it was incredible to see this beautiful object do its job but remain anonymous as "just a cup".
Mjölk
We love that your glassware has a gentle, warm tone, like that of honey. How did it come to fruition? Is it unique to your work?
Masahiro Ishikawa
Modern industrially-produced glassware is blue-toned, pale, and transparent, with very few impurities.
The concept of my glassware was to bring in a warmer tone. Originally, I was melting yellow glass, but my master Shinzo Kodani taught me that it should not be too yellow, so I started to mix transparent and yellow glass.
I don't know if there is such a thing as "one's own" colour, but through trial and error, I have arrived at this unique colour. I value the natural feeling of it. 
Mjölk
You seem interested in music and even started a public recording radio program on IGTV in Japan. Can you tell us more about your passion for music? Do you have any records on continual rotation that you recommend checking out?
Masahiro Ishikawa
Music and craft are very similar—rhythm and accent are important in both.
It is impossible for me to suggest a single record—it would depend on where, when, and with whom you're listening to it. That being said, the song "Take The First Step" on the album "Broken Blossoms" by Nobuyuki Nakajima is my recommendation for anyone in need of encouragement to take that first step.
Mjölk
What does the future hold for you? Do you have any exciting new plans or directions?
Masahiro Ishikawa
First and foremost, I want to share in excitement with family, friends, and dealers who I work with.
In my life, rather than aiming only to find comfort, I strive to continually question accepted ideas and societal expectations. I want to show young people that there are many different ways of life and avenues to explore.
I'm also trying to produce less trash and live a zero-waste lifestyle.
Photograph by Kentaro Kase.
Photograph by Takanori Yamamoto. 
Photograph by Takanori Yamamoto. 
Photograph by Takanori Yamamoto. 
Photograph by Takanori Yamamoto. 
Photograph by Takanori Yamamoto. 
Photograph by Takanori Yamamoto. 
Photograph by Takanori Yamamoto. 
Photograph by Takanori Yamamoto.