Login
Log in if you have an account
Register
By creating an account with our store, you will be able to move through the checkout process faster, store multiple addresses, view and track your orders in your account, and more.
Create an account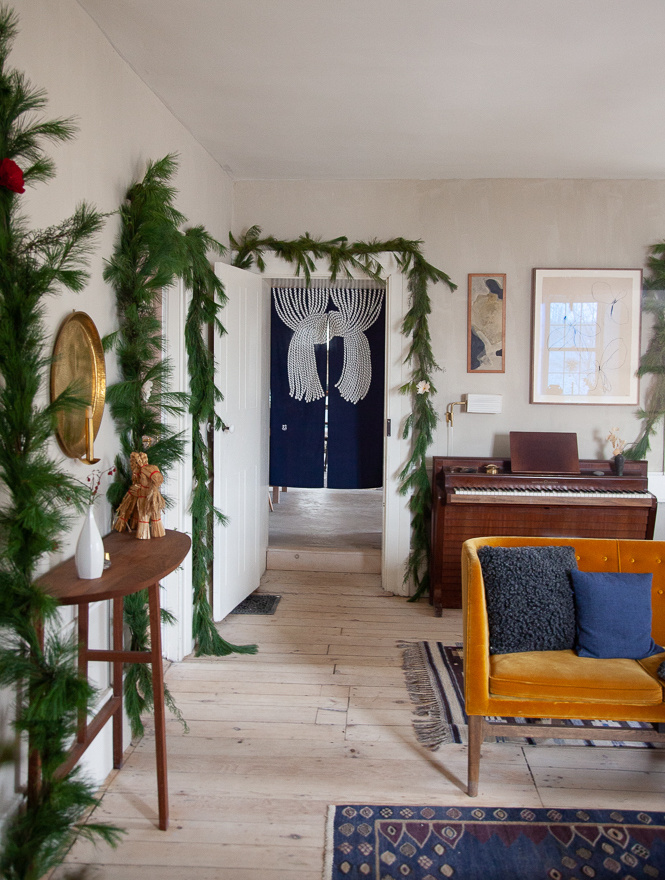 The Winter Solstice has arrived. We have all just experienced the darkest day of the year, and with the sunrise we are reassured that the days will only get longer and brighter from here. The Solstice has been a universal symbol of light defeating dark / good defeating evil and this year in particular I think we are all ready to close the chapter on 2020 and get ready for a more optimistic year.

In that spirit, knowing this holiday season we will be away from our extended family and friends, we thought we would do something special and decorate the farm for Yule and share with you some of our own family traditions. 
Yule is particularly nice to celebrate as it lasts from the 17th to the 25th of December and most of the traditions are still being practiced or have been adopted. 

It's quite a rarity to be at home this time of year, generally the shop is at its busiest and it's not until Christmas day that we actually get to exhale and relax. With the lockdown of small retailers we wanted to try our best to support other small businesses and ordered beautiful pine and cedar garlands from Coriander Girl to be hung above all of the doors and windows to the parlour. 

Brining in evergreens into a space is a symbol of life and permanence because they stay green. They also smell incredible when you walk into a room with a mixture of pine, cedar and fir. 

Walking into our home you'll likely hear our favourite Christmas record "A Charlie Brown Christmas" written by the great Vince Guaraldi Trio, or our new favourite: A Very Chilly Christmas by Chilly Gonzales with Feist and Jarvis Cocker. When things get a little too somber, then we'll put on "Beach Boy's Christmas" and get the good vibes going again. 

The mantle brimming with cedar boughs, milkweed and pine cones.
One tradition our children like to do is making pomander balls, which are clove studded oranges. Originally these were thought to ward off illnesses and bring good luck. They also are a very old form of perfume and smell wonderful.


The Yule goat is a decoration you will see in a lot of Nordic homes. It actually predates Santa Claus as the primary gift giver to children. Eventually the two entities combined and for a while Santa delivered gifts by Goat and not on a sleigh. 


Naturally candles are so important this time of year and it seems every surface has one. It's really important to stock up on them as you'll find yourself going through a bunch of them daily. Our favourites are the beeswax candles we sell through Minka which are made by an Apiary not too far from the farm. 


We also love to hang stars in the windows of the home, this one above lights up and is covered in a fabric designed by Josef Frank for Svenskt Tenn. In our other windows we have straw star ornaments hanging. 
Tangerines, almonds and cloves are out on display and available for a quick snack. Feasting is a very important tradition during this time as it was thought the activities of the new year would determine what was in store for the rest of the year. So if you have glorious feasts now, it meant you will have a year of plenty. 
In most of the window ledges you will find electric candles, which look really beautiful from the outside of the house in the evenings. We also have some decanters and drinks here for a leisurely nightcap once the kids are in bed. Our favourite night cap is an Old Fashioned or a Manhattan but of course Eggnog with rum and Sherry are long time Yule favourites. 


Stockings hang from the mantle. In the centre a singular tall candle.




One of our favourite things is to cut down our own Christmas tree. We've tried to make natural garlands of popcorn and dried oranges but the dogs eat them, so instead we're using paper garlands. The white ones actually look like popcorn in a way, so the sentiment is still there. The glass baubles are from Svenskt Tenn, and are both modern and traditional. It is thought the first hanging ornaments were fruit, so the colour of these baubles remind us of citrus and flowers. Glass baubles came later through Germany and many of the original ones attempted to recreate fruits and nuts. I've also heard that mirrored baubles acted like "witches balls" to ward off evil spirits.




Subtle elements of red. Sometimes it doesn't have to be specifically Christmas themed, just choosing items and antiques in the right colour can lend themselves to the festivities. 




It was our daughter's idea to add these delicate paper flowers to the garlands to make them a bit more pretty.




An antique Japanese Octopus jar holds some found wild berries.


Happy holidays everyone! Stay Safe!